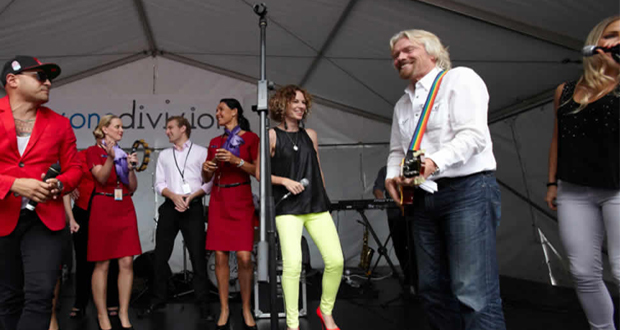 SongDivision
Interactive Songwriting
X
Program Descriptions
Interactive Music Keynote:

Creating a Culture of Innovation
Innovation. Leading businesses depend on it for their ongoing success. But what is innovation really…and how do you get it?! Since 2003, SongDivision has been called on by Fortune 100 companies in over twenty countries to improve Communication, Creativity and Collaboration in the workplace. Highly engaging and entertaining, this program demonstrates the 3 fundamentals that are required to create a hit song are the exact same fundamentals that are required to create a culture of innovation in the workplace. Drawing parallels to successful songs, artists and bands throughout history this interactive keynote serves to highlight collaboration, communication and creativity (the three 'C's), which are what people collectively need to practice and master in order to innovate and succeed. The end result, of course, is everyone participating in the creation and performance of an original song!
Music Based Team Building / Conference Openers & Closers

Using the universal language of music, SongDivision will tie together your event themes and key objectives in an engaging and highly energetic experiential music program. Our award-winning team building activities are carefully designed to motivate and enhance productivity in any industry. Fortune 500 companies in over 20 countries have called on us since 2003 to deliver tangible results back in the workplace. Whether for a small group of employees, or a company-wide experience for many thousands, we've got a range of programs that will help your people tap into their collective creativity and achieve something together they didn't think was possible!

Battle Of The Bands: It's not about the singing! It's the end of cheesy team building that's a hassle to organize, blows up in your face and doesn't produce results in the workplace. Teams write completely original songs with help from our musicians who work with the likes of Prince, Adele and David Bowie…then perform them in a 'battle of the bands' showdown.

Team Anthem: Generate excitement among any size audience with SongDivision's Team Anthem. Build group cohesiveness and communicate key event themes and messages, as attendees work together to write and perform a unifying original song led by an all-star band.

VIP Recording Studio Experience: You've seen recording studios in the movies – the enormous mixing desk, the producer watching the band through the soundproof glass. Now YOU can experience the magic of a world-class recording studio! Your team will write an original song with help from musicians who work with the biggest stars on the planet, then record it with a top audio engineer at the controls, the same way hit songs we hear on the radio are created. Anyone who loves music will love this once-in-a-lifetime, hands-on experience of how songs are written and recorded. You'll never listen to music the same way again.
Entertainment:
Lip Sync Battle: Spice up your next event with a Lip Sync Battle! The fabulous SongDivision MC will ensure both the 'lip-syncers' and audience have the time of their lives. Every single one of your guests can participate and no pre-event preparation is required. We've developed a 'mass lip sync battle' that has everyone busting moves, with the most entertaining being selected for the final showdown. Alternatively, you can pre-select a handful of your most outrageous employees, executives or guests to battle it out.

Rock N' Roll Game Show: Enjoy a little friendly competition among attendees with the 'Rock & Roll Game Show', where tables compete for coveted bragging rights in this 'music-trivia on steroids'!
It's interactive entertainment that highlights your key event objectives in a fun and engaging way, and a fabulous way for your attendees to network and get to know each other.

Gala Dinner & Awards Packages: Let us take care of all your entertainment needs, engage your guests and highlight key event themes in a fun and unforgettable way. We'll do all the heavy lifting and have your guests telling you "that was the best event ever!"

House Band: Think David Letterman's Late Show Band, or 'The Roots' on the Tonight Show with Jimmy Fallon.
Our world-class bands will bring energy and excitement to your general session program, playing presenters on and off the stage and energizing your audience between segments.

Cover Bands: Let our world-class cover bands fill your dance-floor with hits from the last four decades. Your guests will be telling you it was 'the best event ever!'
From party bands to headline acts, string quartets to DJ's, SongDivision provides Corporate Entertainment that will take your meeting or event to the next level.
Why Book SongDivision?
Engage attendees and create meaningful connections through interactive songwriting and entertainment designed to suit all of your event needs including Team Building, Conference Energizers, Entertainment, and Brand Activation.
SongDivision unites companies around their purpose using the science of music.

A global provider of collaborative musical experiences for meetings and events, SongDivision engages audiences with an array of music-fueled services encompassing team building, conference openers & closers, and corporate entertainment.

Allow music to convey your story and bring your people together. Music is scientifically linked to happiness, memory, and relationship-building. Through collaborative songwriting and performance, SongDivision uses these principles to engage attendees around core messaging and strengthen corporate culture. No musical background is required. From your opening session to your closing celebration, SongDivision's entertaining programs and performances will inspire your audiences and produce real ROI.

All sessions are led by world-class musicians who have worked with renowned artists such as David Bowie, Billy Joel, Drake and Taylor Swift. Each of these expert facilitators is well-versed in inspiring energy and creativity, while alleviating fears and creating memorable moments. With Fortune 500 clients in over 30 countries, SongDivision has received worldwide recognition for its innovative experiences using music to build corporate culture.

Unite around your purpose using the science of music.