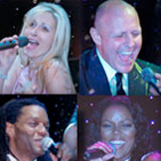 Soul Survivors
High Energy Party Band That's Perfect for ANY Event
Soul Survivors is one of the hottest party bands on the music and live entertainment scene today, and they've been amazing crowds from all over the country with their tight harmonies, smooth delivery, and unique brand of on-stage personality and antics for years. Soul Survivors are the perfect group to top off ANY truly successful party!

First, start with six superb players who actually record the original music in Miami's studios for people like The BeeGees, Barbra Streisand, Marc Anthony, Julio Iglesias, Gloria Estefan,KC & The Sunshine Band, Arturo Sandoval, Beyonce, and Sean 'Diddy' Combs. Next, have them play gigs together each weekend for at least 5 or 6 years to tighten up the sound. Finally, add the finest computer technology to 'enhance' their sound, exactly as done on Television and Broadway. What you have is a "state-of-the-art" backup band that, quite frankly, sounds like a 16-piece orchestra!

Based in Miami, they're one of the most recognizable and acclaimed fixtures of the live music circuit throughout Florida, pleasing audiences of all ages, styles, and musical tastes with their diverse catalogue of popular hit songs spanning every genre from rock n' roll to dance and hip-hop.

Soul Survivors make every show a celebration you'll never forget, by bringing each audience a seemingly endless evening of good times and great music to dance the night away to!

Whether you're into rock, hip-hop, funk, pop, or dance music, Soul Survivors has something to offer absolutely everyone, and that's what makes them the ultimate party band, and the BEST at what they do!