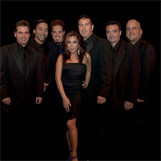 Sound Image
Professional Musicians
Sound Image is a multi-talented group of professional musicians that have been performing throughout the tri-state area and the United States for over 20 years.

Our huge repertoire includes all styles of music. We reproduce each song as close to the sound of the original artist as possible, and take great care in tailoring our sets to be appropriate for any audience.

The members of our band have recorded and/or performed with artists such as Debbie Gibson, Slash & Duff of Guns and Roses, Ronnie Spector, Brian Setzer, Paul Schaffer, Joan Osborne, Andrew Dice Clay, Jelly Bean Benitez, Howard Stern, The Drifters, The Coasters, Felix Cavalieri of the Rascals and countless others.

Vocalist, Jenn Cuneta, has written and recorded several Billboard Top 10 dance singles. Her hit "Come Rain Come Shine" employed a rare Paul McCartney-sanctioned use of Wing's "Silly Love Songs," and was among Billboard's Top Ten Most Played Dance Songs of 2005.

Players have performed on commercials for American Express, Sheraton Hotels, Oreo Cookies, No Excuses Jeans, Pfizer Inc., and Uniform Jeans. They have also composed and/ recorded music for Johnson and Johnson Inc, Telluride Film Festival, NY Mets, Pittsburgh Steelers, New England Patriots, Media Right Productions and Bob Giraldi Productions.

Our members have also acted in shows and feature films including; The Sopranos, The Devil Wears Prada, The Inside Man, Anne B. Real, and Dice Rules.