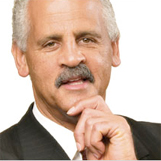 Stedman Graham
Best-Selling Author of You Can Make It Happen
X
Program Descriptions
Nine-Step Success Process: Business Strategy and Vision
Stedman Graham shares his insights regarding this systematic approach to organizing and advancing business goals and aspirations.

The Dynamics of Leadership
Stedman Graham, best-selling author and businessman, shares his insight into how participants can master the "hard skills" necessary to succeed in the business world.

Diversity: Leaders, Not Labels
In Leaders Not Labels, Stedman Graham helps people to recognize that it is about recognizing your own strengths, being proud of your own culture and never having to apologize for who you are.

You Can Make It Happen: A Health and Lifestyle Program
This program focuses on self-awareness and personal performance as the best way to achieve optimal results.

Strategic Marketing
Stedman Graham targets the opportunities for business growth through organizing the industry for discovery and innovation and developing strategies for integrated business, marketing and sales.

Build Your Own Life Brand
Stedman Graham champions messages on how to polish your brand - "your promise." His messages are tailored to the individual and/or the overall organization.
Stedman Graham has built a strong reputation for helping corporations, organizations, and individuals succeed. He is the Chairman and CEO of S. Graham & Associates, a management and marketing consulting firm based in Chicago, Illinois. As an educator and speaker, Graham lectures and conducts seminars for businesses and educational organizations worldwide on the topics of Identity Leadership. Graham considers it his mission to transform followers into leaders. He has a passion for helping young people adopt a larger vision for their lives. He is the author of eleven books including two New York Times bestsellers. His most recent book, "Identity: Your Passport to Success" is a Wall Street Journal bestseller.

At the Kellogg Graduate School of Management at Northwestern University, he taught a management strategy course entitled "The Dynamics of Leadership." Graham is currently a distinguished visiting professor at colleges and universities throughout the country. Active in community work and philanthropy, he is on several boards including the boards of Junior Achievement. Graham holds a Bachelor's Degree in social work from Hardin Simmons University, a Masters of Education (M.Ed.) from Ball State University, and an Honorary Doctorate of Humanities from Coker College. Graham has also served in the U.S. Army and played professional basketball in the European League.
Books