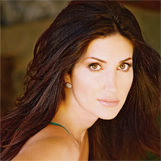 Stefanie Schaeffer
Winner of The Apprentice 2007
Traveling From
California
X
Program Descriptions
Balancing your corporate life with your personal life
Being a winner... having passion and perseverance
When faced with a glass ceiling, break it with your
stiletto
Networking – golf ain't just a boy's game
Goals and incentives: keep yourself going and getting
there
Fitness and nutrition: key elements for success and
happiness
and more!
Stefanie Schaeffer's creativity, business savvy and leadership skills brought her public respect and praise when named NBC's 2007 "The Apprentice." She joined the Trump Organization, successfully oversaw the construction and development of the Cap Cana project in the Dominican Republic, and concurrently began serving as Vice President of Sales and Marketing for Trump International Hotel and Tower in Las Vegas, where she will remain at least through April 2008 when her one year contract expires, at which time she will determine the next step in her ever broadening road to success. Her experience with Mr. Trump has led her to become a real estate broker in addition to her other credentials. She is a regular contributor to USA Radio Network's nationally syndicated morning show Daybreak USA and writes a monthly column for the online magazine, Fabulously40.com.

Prior to becoming "The Apprentice," Schaeffer worked as a lawyer for a prestigious California firm. Her area of expertise was defending employers against workers' compensations claims, spending the majority of her time in the courtroom, where her superb oratorical skills could be effectively exploited. Los Angeles Magazine recognized her as a Super Lawyers Young Rising Star in both 2006 and 2007, placing her in the top 2.5% of all lawyers in the state.

A native Californian herself, she hails from a family of entrepreneurial New Yorkers. Drive and passion were emphasized by Stefanie's parents during her childhood and higher education was encouraged as a strong foundation for the future. In 1996, Stefanie graduated from the University of California, Riverside with a double major in English and Psychology and a minor in Communications. She went on to attend the prestigious SCALE program at Southwestern University School of Law, where she graduated with her Juris Doctor degree in just two years, one year ahead of schedule. She then worked as a law clerk for United States District Court Judge Ronald S.W. Lew in Los Angeles, followed by a career as a trial lawyer defending large California real estate developers in construction defect litigation.

An instinctive presenter and host, Stefanie is a charismatic and charming motivational speaker with compassion and insight regarding business, life focus techniques and fitness. She is launching a new program called "Strut your Stuff" which will include audio tapes, her newest book about achieving business success, and she will continue filling the demand for speaking engagements for businesses and professional organizations throughout the United States.

A major proponent of charity involvement, Stefanie is a national spokesperson for the American Cancer Society, for which she has done PSAs, and she volunteers with the Boys and Girls Clubs and Habitat for Humanity. She is an avid golfer and enjoys snow skiing, tennis, martial arts, scuba diving and cooking.