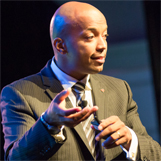 Stephan Maighan
Captivating Motivational Speaker and Mindset Expert
X
Program Descriptions
Striving for Excellence
Designed for employees, entrepreneurs, and managers, this conference explores the importance of a positive outlook and accountability at work and at home. What would our personal and professional lives look like if we were able to perform to our fullest? The answer to this question and many others are given in this signature keynote presentation, along with the tools and strategies needed to mobilize employees and inspire a winning attitude. Participant interaction and personal narratives from Stephan drive this acclaimed keynote.

Thriving Through Change
It can be difficult to implement organizational change. Employees that are unable or unwilling to make transitions and adopt new methods can pose a serious challenge. So how do employees tackle change? Whether it is before or after the organizational change, this conference keynote will impart the practical strategies and tools needed to respond quickly to change in order to reap the benefits.
All For One
Organizations need teams that comprise employees with shared objectives and who are also willing to surmount shared obstacles. A corporate culture of collaboration and teamwork is therefore an essential building block for any organization. This conference is designed to show your staff how to translate individual human talent and competencies into an effective team strategy. Effective teams who know how to maximize each member's skills into results are teams that will succeed far more than individuals who work in silos.

Impact & Influence
How many people have heard the phrase "that person is a natural-born leader"? Is leadership an innate competency or can people develop to become leaders? This conference is designed for team leaders: Stephan's goal is to impart a framework for spearheading teams, which includes strategies for growing one's influence and impact.

Selling, Redefined
Stephan Maighan has built and managed many large and successful teams in business-to-business sales (B2B) and business-to-consumer sales (B2C) across Canada. Throughout his sales career, Stephan has known how to set himself apart. Hard work and excellent results helped position him within the elite of his field. His drive and 'zero-excuse' attitude have made him a successful team leader at the helm of many of North America's most successful sales teams.

Custom Keynote
Organizations facing complex challenges and opportunities seek a professional keynote speaker who knows how to customize conferences for their specific needs. For instance, organizations may be interested in a "hybrid" keynote that broaches the topics of change and collaborative vision. Stephan has heard the demand and he delivers client-driven customized keynotes.
From hilarious anecdotes to moving stories, Stephan Maighan masters the art of taking his audience on an evocative emotional journey. His motto is simple: "Commit yourself to living and performing to the best of your possibilities". Stephan constantly engages his audience throughout his talks, using humour and interactive exercises as hallmark techniques to get participants on the edge of their seats.

What people are saying about Stephan's keynote presentations:

"He made us laugh, cry, and think."

"Funny and definitely surprising!!"

"We hung on to every word he said from start to finish."

Over the years, Stephan has been inspired by those who distinguish themselves and who master the art of excellence. His drive and his 'zero-excuse' attitude have helped him lead some of North America's most successful work teams. A true entrepreneur, Stephan is the founder of a Canadian distribution company that sells products and apparel in over 400 retail outlets nationwide. He is the author of a book on "taking charge of your life", which is a hit with readers and media outlets alike. He has also co-authored another book on "achieving success". Stephan Maighan has taken on the role of spokesperson for the Heart and Stroke Foundation of Canada and contributes actively to the Foundation's media-related activities nationwide. You can also tune in and listen to his weekly radio show "Attitude Matters" on M105 104.9FM (Canada).

Drawing on his experience, Stephan effectively illustrates the impact that one's attitude can have on the final outcome when faced with change and uncertainty. He makes parallels between his professional and personal experiences to help participants remember the importance of being adaptable in the workplace. Stephan reminds participants that challenges at work and at home should not translate into a negative outlook. As he astutely observes: "It's not what has happens to you that matters—it's what you make of it"

Using a wide array of personal experiences that open up on central themes such as 'Adapting and Taking responsibility' (Stephan, an only child, became the "man of the house" at 7 years old after his father left and after his mother became paralyzed due to a stroke) and 'Dare to attempt the impossible' (at 21 years old, Stephan, who was broke and couldn't speak English, drove across Canada to move to Vancouver, B.C. where he became the top door to door Encyclopaedia sales leader in the country), Stephan Maighan imparts effective strategies and compelling anecdotes to create lasting, unparalleled results.

Whether the target audience comprises 15 executives or 5000 participants, his keynote presentations are always tailored to client-driven needs and expectations. Stephan Maighan can help you transform your next business meeting, conference or in-house workshop into a successful and memorable experience.