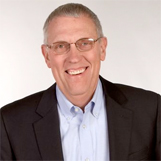 Stephen Boyd
Leading Communication and Listening Skills Expert
X
Program Descriptions
High Bid
Have you ever noticed how auctions draw people into the bidding? Steve worked with an uncle who was an auctioneer, and he carried that experience into his funny and motivational speech where you will be "sold" on the need to communicate well.

Be Present When You are Present
If you want to be a success in life, you must learn to pay attention—not fake attention. You'll go away with practical and important skills to help you develop your skills in order to pay attention—and be present when you are present!

Practicing Short Leaps: Motivating Yourself and Others
In this program, you will learn how to expand your comfort zone by getting out of ruts and learning about how "six degrees of separation" shows how we're all connected. You will learn how to motivate yourself and others to become more productive every day.
Sharpening presentation skills, teaching effective listening, and improving your communication skills are Steve Boyd's passions.

A professional speaker, seminar leader, and communication consultant, Steve Boyd is an effective motivator and trainer. If you have stage fright or if you just need presentation skill training, Steve can help you!

His keynote/after-dinner speeches, "High Bid" and "Be Present When You Are Present," are hits with audiences across the country.

Stephen D. Boyd has been involved in the study and practice of communication all of his adult life. His experience and expertise is in improving presentation skills, interpersonal skills, and listening skills.

At 26, he was the winner of the 1970 Toastmasters International Speech Contest. At 27, he completed his Ph.D. in Speech Communication from the University of Illinois. In 1990, Steve was named Certified Speaking Professional by the National Speakers Association, becoming one of only eight percent of NSA members to earn that title. A CSP designation indicates a "speaking professional with proven experience who understands what is required and knows how to deliver client satisfaction." The CSP is based on strict criteria set up by the NSA.

His articles on public speaking, sales presentation skills, oral presentation skills, and effective listening skills have appeared in various magazines and journals, and his three books on public speaking have sold over 30,000 copies.

His book, From Dull to Dynamic: Transforming Your Presentations, gives you practical advice on your next speech, whether you are a beginning or experienced presenter. The book also helps you with wedding toasts and persuasive speeches. You will find how to choose the best speech topic for the audience with great tips to improve your next presentation. Steve co-authored the book with his son Josh Boyd, an associate professor of speech communication at Purdue University.

Steve is Professor Emeritus of Speech Communication at Northern Kentucky University. Here he developed and taught courses in listening and training as well as public speaking. Immensely popular with students, he was a recipient of the "Outstanding Professor of the Year" award at NKU.

His most recent book, "ATTENTION! The Art of Holding Your Audience in the Palm of Your Hand," gives most examples and tips on improving speaking skills.

Steve flies out of the Cincinnati-Northern Kentucky International Airport.
Books

From Dull to Dynamic