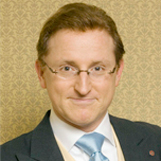 Steve Cohen
Millionaire's Magician
X
Program Descriptions
Win the Crowd
The Millionaires Magician
Steve Cohen, The Millionaire's Magician, performs internationally for celebrities, tycoons and aristocrats.

This awe-inspiring conjurer was placed under the spell by his uncle, who trained under Houdini. After learning his first card trick at age six, Cohen was hooked.

When he is not traveling, Cohen can be found at New York's famous Waldorf-Astoria Hotel performing his public show: Chamber Magic. Cohen recreates the intimacy of 19th century parlor performances by baffling his guests in close quarters of a private suite.

Cohen's public and private performances have become a must-see phenomenon. He has performed at a wide variety of gatherings from The White House Correspondent's Dinner to numerous Fortune 500 corporate events and private functions. The notables mystified include: Mayor Michael Bloomberg, Martha Stewart, Jack Welch, Christopher Reeve, U.S. Senator Chuck Schumer and Michael J. Fox.

Cohen has received widespread media recognition, including CNN, Martha Stewart Living, CBS Evening News, The History Channel, The New York Times, The Financial Times, Lexus Magazine, The London Sunday, and The Evening Standard.

Cohen earned a degree in psychology from Cornell University and spent a year abroad studying at Waseda University in Tokyo. He has a native-level proficiency in Japanese, and previously worked as an interpreter for the Japanese government. He holds the esteemed rank of MIMC (Member of the Inner Magic Circle) with Gold Star, awarded by The Magic Circle in London.

He is the author of the book Win the Crowd. In this book, Cohen reveals the secrets of all great showmen and magicians—how to persuade, influence and charm, and ultimately accomplish the things you've always wanted to do.

Win the Crowd teaches Steve Cohen's Maxims of Magic, simple rules you can use to take charge of practically any situation. The Maxims of Magic will wash away insecurity and hesitations, and replace them with confidence, poise and leadership. When you strip away the sleight of hand tricks, magicians are essentially masters of attracting and holding attention and impressing audiences, exactly the psychological secrets you need to be successful in life and business.


Books

Win the Crowd