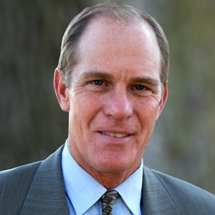 Steve Ford
Actor, Speaker and Son of Former US President Gerald Ford
Traveling From
California
X
Program Descriptions
Writing The Vision/Script For Your Life With Character
During Steve Ford's "non-political" presentation he'll share the tools and tasks he uses to create the vision/script for his life. His motivational and inspirational stories will make audiences rethink their lives, pinpoint a vision for life, and discover the actionable tasks to turn that vision into reality.

Inside The White House and Hollywood…Getting To The Top With Character
During this presentation, Steve Ford will share the tools of his own success in Hollywood as an accomplished actor, and those of his parents, former President Gerald Ford & Betty Ford. Steve's presentation will focus on such issues as leadership, overcoming adversity, the value of a strong family unit, living with values and character, setting and juggling priorities, and making the right choices in life.

Leadership with Character
What makes a great leader? History shows that those who have sought service over self-interest in times of indecision, turmoil and crisis are regarded as true leaders. President Ford's son, Steve, talks about what it takes to be a good leader and some of the traits of leadership with character.

An Evening with Steve Ford
An after dinner motivational and inspirational program colored with humor and the unique perspective of Steve Ford.
Why Book Steve Ford?


He talks about his life in the White House as the son of a president and the lessons he learned from that experience.
He shares the messages of courage and confidence he learned from his mother and the leadership he saw in his father.
The son of former President Gerald R. Ford and Betty Ford, Steve Ford has successfully negotiated the bumpy road from the White House to a successful 20 year career as an actor in Hollywood.
Steve's unique perspective on life as the President's son encompasses a broad range of fascinating subjects: being eighteen years old and having ten Secret Service agents as constant companions; his father's pardon of President Nixon to help put an end to the infamous Watergate affair; two assassination attempts on his father's life; his mother's bouts with alcoholism and breast cancer.
During Steve's non-political presentation, you will learn the tools of his success in and outside Washington, DC. With a focus on such issues as the value of a strong family unit, living life with values and character, setting and juggling priorities, and making the right choices in life. Steve's presentation is entertaining, enlightening, insightful and inspirational.
He has appeared in more than thirty feature films. Most recently Steve appeared in the hit movie Black Hawk Down. Steve's other credits include Contact with Jodie Foster, Heat with Robert DeNiro and Al Pacino, Armageddon with Bruce Willis, Starship Troopers, Eraser with Arnold Schwarzenegger and When Harry Met Sally as Meg Ryan's boyfriend.
Before becoming an actor in 1979, Steve worked on the professional rodeo circuit as a team roper and still ropes today in his spare time. He owns a ranch in California. Steve was involved in the thoroughbred race-horse industry for years during the 1980's and 90's as an owner, breeder, racing manager and race track executive. In 1994, Steve returned full time to his acting and speaking career.