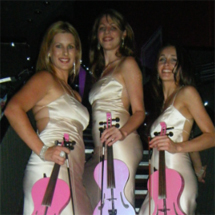 String Angels
Electric Violin Trio
Three beautiful girls, three electric violins, one dynamite show!

Bringing the classics to the 21st Century, the String Angels features three beautiful girls, three electric violins, one dynamite show!

From the creators of The Three Waiters, three beautiful string players bring the classics into the twenty-first century with electric violins supported by fully pumped orchestral backings with a beat. From Beethoven to The Beatles, Mozart to Queen, this class act is ideal and fully adapted for dinners, conferences openings and special events.

The show is energetic, user friendly and can be customized to suit. Full Throttle Classical Entertainment! STRING ANGELS are HOT! HOT! HOT!

How The Show Works:
The perfect complement to any event, String Angels is a dynamic, sophisticated act, which brings the classics into the twenty-first century with a bang! Three of the world's finest young string players explode onto the stage in a stunning show designed to fit perfectly within the flow of your function. You and your guests have never seen or heard classical music like this before!

Whether they are the featured entertainment at your event, or are called on to brilliantly punctuate its opening or closing, the Angels add a level of excitement and sophistication that has to be seen to be believed!

A show designed to compliment any event, String Angels is pure style - these immaculately presented performers, play a wide ranging repertoire with a totally professional approach. String Angels requires a minimum of production: the String Angels bring their own pumped-up backing tracks and signature Pink Violins.

The famous classical songs you know and love get a contemporary twist alongside some great rock anthems and the Angels' virtuoso live playing will blow you away. Each a gifted soloist in her own right, these three brilliant musicians are three of the best this country has to offer – most are graduates of leading Conservatoria and all have been trained by the creators of world-renowned live act The Three Waiters, so when these amazing performers get together the result is incredible.

The Angels dress glamorously in high-end costumes giving the client the choice between playful flirty little dresses, sexy shimmery black cocktail dresses, discoball silver ball gowns complete with trains and more. The look is completed with beautiful hair and makeup and of course their signature pink violins. The Client decides how much production to add - but with such a dynamic act, we recommend a good quality sound system and three spotlights for maximum impact. The Angels look as good as they sound!

Playing everything from Bach and Mozart to Pop and Rock, the String Angels give classical music a completely contemporary slant. Your guests have never seen violins played like this before! The String Angels playlist includes Eine Kleine Nachtmusik (Mozart), Toccata & Fugue (Bach), Czardas (Monti), Storm (Vivaldi) Liebertango, Explosive and Victory (Bond), Land Downunder, Waltzing Matilda, New York New York, Yesterday (Beatles) and specialized requests to suit your event.

These three brilliant local performers have appeared all over the world, from Beijing to Bangkok, from New York to Venice, Brazil and the Middle East. An elegant, exciting and unique show, the String Angels will add an element of excitement and sophistication to your event while giving your guests an experience they'll never forget!