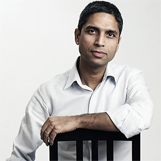 Sunil Tulsiani
Real Estate Mentor
"If you want to be successful, you follow people like Sunil."

"His process has absolutely increased my net worth...it's been phenomenal."

"He actually teaches what he does himself - and he doesn't hire others to do training for him."

"He's a man of integrity who has helped many, many people and continues to help them to grow their investments."

These are direct quotes from students of the man known as "The Wealthy Cop" - as well as "Canada's #1 Real Estate Investment Coach," and "The Million Dollar Mentor." Sunil Tulsiani in a few short years has made an incredible journey from policeman to influential real estate mogul - and, as his coaching circle will attest to, his track record in profiting from property deals is only eclipsed by his passion for helping his coaching circle succeed beyond their wildest dreams in their own real estate deals.

Sunil's determination in achieving his dreams was evident from his childhood. Born in India and raised in the Toronto area, Sunil had an early ambition to become one of the cops he admired on TV, movies and in real life - and overcame almost-insurmountable odds by earning a spot as an officer with the Ontario Provincial Police. His dedication to success in law enforcement led him to take criminal, auto theft and drug investigation courses and work his way up the ladder to platoon commander, the first Indian-born person to do so.

However, the long hours that police work demanded interfered with his family's happiness - so Sunil set his sights on a different course for success. With no prior experience in real estate investment, he set out to meet his goal of making a million dollars on property deals within the first year of leaving the police department. He fell short - but only by $20,000, buying and selling 77 properties along the way.

Realizing that the secrets he uncovered along the way to his record-breaking year could be valuable to others like him, Sunil decided to become a real estate coach and founded the Private Investment Club. Currently, he mentors many students, both in PIC and on a one-to-one basis, who wish to duplicate his ongoing success. Sunil teaches them his inside knowledge of this lucrative world, as well his own innovative and dynamic techniques for personal development. He also has been known to invest in their property deals.

Sunil continues to educate himself in the real estate arena as well as continue his own personal growth. He is an in-demand speaker for events and is the author of two best- selling books, including one with Jack "Chicken Soup for the Soul" Canfield. He will also be releasing his autobiography shortly.