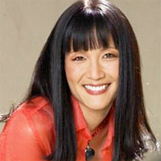 Suzanne Whang
Entertainer Extraordinaire
Traveling From
California
X
Program Descriptions
The Power of Humor for Enlightenment and Healing
Life as an Asian-American Woman
How Al-Anon Revolutionized My Life
Volunteerism: The Importance of Giving Back
and many more!!
Suzanne Whang is a television host, actor, stand-up comedian, emcee, keynote speaker, political activist, minister, radio host, and published author. In her spare time, she sleeps.

As an actor, Suzanne has appeared in numerous television series, including a hilarious recurring role as Polly the oversexed spa manager on Las Vegas, a memorable guest starring role as the young Mrs. Lee on Cold Case, and co-starring roles on Two & a Half Men, Boston Legal, Still Standing, Criminal Minds, Nip/Tuck, The Practice, Strong Medicine, Robbery Homicide Division, Norm, and NYPD Blue. She appears in the Keanu Reeves feature film Constantine as a screaming mother whose daughter is possessed by soldier demons. Don't you hate when that happens? Suzanne did another feature film called Traci Townsend which debuted at the Pan African Film Festival in Los Angeles -- her scene-stealing role at a wise manicurist got audience applause! She also did a cameo appearance in the Hilary Duff feature, Material Girls. And Suzanne starred in the short film Seoul Mates, which won Best Acting Award and Audience Award at the Los Angeles 48 Hour Film Festival. If you're feeling nostalgic, rent the film Housesitter with Steve Martin and see Suzanne as Mr. Moseby's secretary. She wrote and starred in a sold-out one-woman show called I Make You Laughing and got standing ovations every night. Suzanne is a graduate of the acting program at the William Esper Studio in New York City, and also studied with Milton Katselas, Richard Lawson, Gary Imhoff and Jeffrey Tambor at the Beverly Hills Playhouse.

As a host, she has been the host of House Hunters, the #1 rated show on HGTV (Home & Garden Television Network) for almost ten years, and you can also see her as the host of the hit spinoff show, House Hunters International. She is currently guest hosting on GSN Live on the Game Show Network. You might have also seen Suzanne host Homes of Our Heritage: Great American Women, Homes of Pasadena, Blitz Build 2000, Holiday Windows, and The Making of Rose Parade 2005 and 2006 on the same network. She had a great time as Dick Clark's co-host on TV's Censored Bloopers for NBC, while concurrently co-hosting New Attitudes on Lifetime Television. Prior to that, she was a field host/fill-in co-host for FOX After Breakfast, and a field host for Breakfast Time, Personal FX, and The Pet Department on the FX cable network. Suzanne received a NAMIC Award nomination for her work on Breakfast Time. Also an accomplished emcee, she has also been a red carpet host for An Evening at the Academy Awards on ABC, and she hosted the 20th Anniversary Gala Concert of the Korean Concert Society at the Kennedy Center in Washington, D.C. Suzanne was featured as one of "Ten Women to Watch" in "A" Magazine. She was a celebrity presenter at the 2003 Vision Awards, which celebrates diversity in cable television. Suzanne co-hosted the America's Promise children's charity awards ceremony in Beverly Hills, and she also co-hosted the Miss Chinatown pageant in Seattle. She also emcees many charity events, including a Lupus Gala Charity Benefit and a Breast Cancer Awareness Charity Benefit. And Suzanne does humorous and inspirational public speaking gigs across the country, at high schools, universities, conventions, and whatever else floats her boat.

As a stand-up comedian, Suzanne won the First Annual ANDY KAUFMAN AWARD at the New York Comedy Festival! She was recognized for her Courage, Creativity, Originality and Humor by the festival judges. This award guaranteed her appearance on Comedy Central's Premium Blend. She also won Best Up & Coming Comedian at the Las Vegas Comedy Festival, playing her controversial, shocking, and politically incorrect alter-ego, SUNG HEE PARK. The act is a satire of racism in America, reminiscent of Archie Bunker's character in the phenomenal sitcom, All In The Family. Suzanne regularly performs one-week stints at the Improv in Las Vegas and Lake Tahoe. She has performed in Los Angeles at the Comedy Store, the Laugh Factory, the Improv, the Ice House, the Friars Club, the HaHa Cafe, the House of Blues Foundation Room, and the Comedy Union. She has also performed at clubs in New York City, Seattle, and San Francisco. Suzanne's slogan for her comedy act is: "Don't judge a gook by her cover."

She has just written her first book, entitled Suzanne Whang's Guide to Happy Home Buying, which is currently in bookstores across the country and also available on amazon.com! The book uses Suzanne's lighthearted style and irreverent sense of humor to deliver great information about the home buying process. She also incorporates the law of attraction from quantum physics into the process of manifesting the home of your dreams!

Suzanne is pitching original television series ideas to networks, with her partner Robert Cain.

She is a graduate of Yale University with a B.A. in Psychology, and holds a Master's Degree in Cognitive Psychology from Brown University.