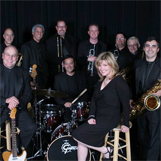 Traveling From
California
X
Program Descriptions
Big-Band Swing with popular R&B, Disco, and Rock 'n Roll
Welcome to Swingtown! Swingtown was formed in 1993 by Dave Eastly and Dave Wells, after seeing a need for a band that combined Big-Band Swing with popular R & B, Disco, and Rock & Roll dance music. They've assembled some of the finest musicians in town that actually like each other and want to bring a sense of FUN to the party. The band developed their "chemistry" while performing in the Newport Beach nightclub scene, making Swingtown the acclaimed ensemble of today.

Dave Wells, born in Southern California, grew up playing trombone and touring in the Latin & Top 40 music scene, as well as performing at Disneyland. He has also played trombone for artists as diverse as B.B. King and Metallica. As a sought after arranger and music copyist, he has arranged for artists such as Chaka Kahn, Michael McDonald, and, of course, Swingtown.

Dave Eastly is a native of Seattle, coming to Long Beach in 1980 after playing in every Holiday Inn lounge from Bellingham to Oceanside. Since then, he has played with symphonies, at theme parks, elementary schools, (a few biker bars) and is currently a staff musician for Disneyland. Dave plays a variety of musical instruments, sings, and acts as Swingtown's "Master of Ceremonies", with a touch of humor.

Swingtown has had the pleasure to serve as the backup band for artists such as The Temptations, The Four Tops, Tommy Tune, Helen Reddy, Harry Babbitt, and The Coasters. Members of Swingtown have worked with such notables as Woody Herman, Maynard Fergussen, Paul Anka, Frank Sinatra, Diana Ross, Buddy Rich, Tower Of Power, Brian Setzer, and The Disneyland Band. Swingtown can be seen performing regularly on Disneyland's "Plaza Gardens" stage.

Swingtown performs in formal attire, team bowling shirts, or "swing-threads", behind band-stands emblazoned with our fabulous logo. Swingtown can be completely self-contained, providing their own sound system, lighting, and break music. Let us help make your event one to remember!