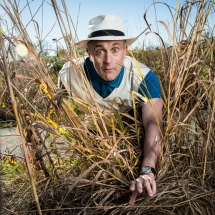 TP Mulrooney
The Golf Comic
T.P. Mulrooney was born in Binghamton, New York in 1958. The Golf Comic was born in Cleveland, Ohio in 1992. T.P. had been doing the standup act that had years earlier earned him a spot on the "Wall of Fame" at the legendary Comedy Store in Hollywood. Some of his television appearances include Fox's "Comic Strip Live", Showtime's "Comedy Club Network", the HBO special "60 Mimics", and numerous "Comedy Central" appearances.

His act had evolved to include some golf material, a game he started playing in 1988. At least, he thought it was just "some" golf material. His experience as one of two head writers for the Fox Network comedy show, "The Sunday Comics" had cultivated a sense in him to keep the subject matter general for all audiences. But his growing love for the game of golf was making that tougher and tougher. The more he played, the more he talked about golf and needed an outlet for all the comedy material he was developing. Enter The Golf Comic.

Since then, he has been charming audienes in settings that range from private outings to PGA and charity golf events. He realizes, however, that not all audience members are avid golfers or even golf fans. Therefore, he continues to lace in his trademark family-friendly comedy to appeal to every kind of audience.