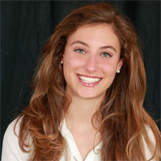 Talia Leman
Philanthropist & Social Entrepreneur
X
Program Descriptions
You Can Be Greater Than You Know How to Be
Talia Leman shows us how to make room for life's surprises, demonstrating that everyone has what it takes to make a (YES!) remarkable difference for anything that matters to them. Be inspired to rethink and re-imagine what's possible, one random inspiration, one random idea, one random person at a time.
Why book Talia Leman?
At age 10 Talia Leman raised $10 million in response to Hurricane Katrina. She created RandomKid, a nonprofit organization that supports and provides resources for youth who want to make an impact worldwide. Ten percent of every dollar raised through RandomKid is put into a community fund pool for future projects.
Listed in Forbes as top "30 Under 30: Social Entrepreneurs"
UNICEF's first known National Youth Ambassador
Talia received numerous awards, including the National Jefferson Award, World of Children's Founder's Youth Award and the International Youth Talent Award from the European Union and the Spanish government of Extremadura.
Talia Leman is the CEO and a Founder of RandomKid. She develops ideas, strategies and networks between kids internationally to increase their impact. She also leads "power" assemblies, doles out seed funds to help jumpstart their philanthropic ventures, organizes web-conferences between youth across the globe, and mentors her peers in success strategies for achieving their goals to benefit others.
Having been appointed UNICEF's first known National Youth Ambassador, Talia has worked with kids from 20 countries and together these kids have reported close to 11 million dollars through RandomKid-guided initiatives. Talia is the winner of numerous international and national awards for her philanthropic work including the National Jefferson Award for global change along with co-recipients Marlo Thomas and Ruth Bader Ginsberg, and was the subject of a New York Times op-ed piece written by Nicholas Kristof entitled "Talia For President".
Talia travels the globe speaking about "The Power of ANYone." She released her first book, A Random Book about the Power of ANYone, published by Simon & Schuster's Free Press Imprint, in October of 2012, and it rose to the #1 spot on Amazon's Mover and Shaker list.
What does Talia love most about RandomKid? "The moment when the random youth who come to us realize that we are here to work FOR them."
IN THE NEWS ...
Talia was named in Forbe's list 2014 30 under 30: Social Entrepreneurs.
RunningStartOnline.org honored Talia with their 2013 Women to Watch Award.