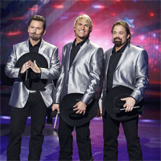 Texas Tenors
Country Roots Classical Sound
The Texas Tenors take popular music from Opera, Gospel, Country and Broadway and put their own classical/country twist on the songs. The heart and spirit of Texas along with Texan family roots is the common thread between these 3 friends....and influenced by the musical styles of greats such as Don Williams and George Jones to the opposite Genres of singing such as Luciano Pavarotti, Enrico Caruso and Mario Lanza. The Texas Tenors enjoy singing everything from Country to Classical.

Marcus Collins:
International singing sensation Marcus Collins brings his unique blend of contemporary and classic hits to the stage along with a peek behind the scenes into the world of television and film. Having most recently appeared opposite Bruce Willis in the blockbuster Perfect Stranger and guest appearances on One Life To Live and Law & Order: SVU.

JC Fisher:
JC Fisher entertains audiences all over the world as a romantic tenor. Trained in the classical style, he enjoys introducing audiences to Opera with some of the most loved Neapolitan songs and Arias. In addition to classical, JC has an appreciation for many different styles of music. His range of vocal skill allows him to incorporate other genres from Broadway to Country into his repertoire.

Growing up in a small Midwest farming community, JC was exposed mostly to country music throughout his childhood. Therefore, he never imagined he was destined to follow in the footsteps of some of the great tenors. He joined the Concert Chorale in college, and this is where he discovered a passion for classical music. JC then changed his major to music, and went on to earn his Bachelor of Music Degree from Wichita State University.

After college graduation, he moved to beautiful Lucca, Italy to begin his career. There, he performed in the prestigious Puccini Festival and studied with acclaimed Italian Maestro Lorenzo Malfatti. Over the last few years, JC has held featured roles such as Rodolfo in "La Boheme," Tamino in "The Magic Flute," Ernesto in "Don Pasquale," and Henrick in "A Little Night Music." Other career highlights include singing on "Italian Festivals" throughout the United States ; singing with friend Rudy Gatlin in Branson, Missouri and as a featured performer at the Miss Kansas Pageant. This was a memorable performance, being it was where he met his beautiful wife Jennifer, who was Miss Kansas 1998. Jennifer and JC now have 2 beautiful children and make their home in Kansas City.

John Hagen:
John Hagen recently made his New York City Lincoln Center debut in Teatro Grattacielo's mounting of Mascagni's opera, Gulglielmo Ratcliff. Mr. Hagen has been described as "astonishing, a superb tenor of deep musicality". From world premiers to the standard repertory, John has performed a vast array of operas, musicals, recitals and symphony concerts around the country. Mr. Hagen is highly regarded for his performances of the Verdi Requiem and Beethoven's Symphony No. 9. He has performed these works and others with the Austin Symphony (TX), Corpus Chrisite Symphony (TX), Omaha Symphony, Lincoln Symphony, Nebraska Chamber Orchestra, Cedar Rapids Symphony, Southern Wisconsin Symphony, Sioux City Symphony and the Haverford Chorale in Philadelphia.

Mr. Hagen is a favorite for Gala concerts and fundraisers singing favorite arias and Neapolitan songs. John has received many awards and accolades throughout his career including finalist in the New Jersey Opera Association of Verismo Opera competition held at Carnegie Hall, Metropolitan Opera Auditions Regional Finalist and winner of numerous competitions mounted by the National Association of Teachers of Singing, including the West Central Region in Denver, Colorado. John has taught voice at Wartburg College and at his alma mater, the University of Northern Iowa.