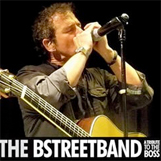 The B-Street Band
The Best of Bruce Springsteen and a Whole Lot More!
Traveling From
New Jersey
X
Program Descriptions
Versatile Musical Entertainment—Tribute to Bruce Springsteen and More!
Why Book The B-Street Band?


They are the world's longest-running Bruce Springsteen tribute band with a great playlist to entertain all audiences.
The B-STREET BAND, originally known as Backstreets, was formed in Asbury Park, New Jersey in May of 1980 by musicians Will Forte and Bob Chipak. Since that time, the top drawing band has performed from Maine to the Bahamas for well over 3 million people.

The addition of Springsteen look-alike, Glenn Stuart, furthered the success of the B-STREET BAND who now plays powerful Springsteen favorites as well as dance music. Selections range from the legendary Roy Orbinson, Billy Joel, 70's Disco, and Motown to Tom Petty and John Mellencamp.

The B-STREET BAND has performed with legendary E Street Band members Clarence Clemons, Max Weinberg, and Vinnie "Mad Dog" Lopez. They have been invited to play on the Conan O'Brian Show and Howard Stern. They have been asked to perform for the New Jersey Devils Hockey Team, New Jersey Governor Whitman's Campaign, and for many corporations such as Mercedes Benz, Metlife Corp., Bristol Meyers, and Vertical Net. They have played at hundreds of state and local fairs and festivals throughout the North Eastern region.

Over the last 22 years, the band has been estimated to have played in over 600 different nightclubs and 175 colleges through 15 different states and is now considered to be the longest running tribute band in the world.