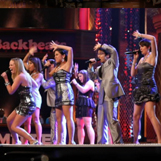 The Backbeats
A cappella Group
Traveling From
California
The Backbeats are one of the newest groups to hit the a cappella scene. Assembled from members of competing collegiate ensembles, these twenty-somethings from around the country are quickly developing a new sound.

With diverse experience in songwriting, musical theater, business, and film, each performer brings their own talent and fresh perspective to this supergroup. Their unique voices blend together to create a stirring, rich, and soulful sound that is undeniably their own.

The Backbeats deliver commanding lead vocals, luscious harmonies, and electrifying vocal percussion, but their true strength lies in their commitment to sincere and passionate performance. It is this commitment that has led each member to join together for a group that is far greater than the sum of its parts.

Since placing 3rd on Season 2 of NBC's "The Sing-Off," The Backbeats' journey is far from over. Stay tuned for the latest updates on Backbeats appearances, and click the contact tab to get the Backbeats in your area.