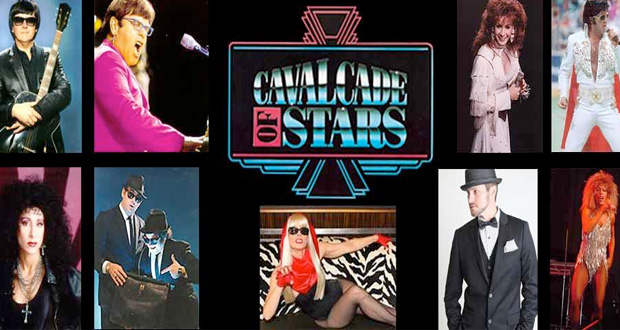 The Cavalcade of Stars
Top-Notch Recreation of Superstars Past & Present
X
Program Descriptions
Live musical performances by celebrity look-alikes
Legendary show group
Elegant ensemble
Interactive dance band
"Cavalcade of Stars" is a legendary Las Vegas show group, an elegant ensemble for cocktails or dinner, and also an exciting, interactive dance band. During dance sets, the horn section delivers percussion instruments such as tambourines, shakers, etc. to the attendees. When a dance set is performed, total interaction is the key. The audience is enticed not only to the dance floor, but to the performance stage as well.

EXCITING CHARACTERS have been added to the show. These performers include sterling representations of Roy Orbison, Buddy Holly, Reba McEntire, The Beatles, The Blues Brothers, and a wild rendition of Retro - 1970's Disco.

The client may choose the characters to be portrayed during the show and great latitude is offered in song selection. This flexibility ensures that every show is an exclusive and customized presentation. "Cavalcade of Stars" performances are always politically and culturally correct. Whether the characters are presented periodically throughout the dance sets, or collectively as a show segment, dancing can be encouraged during the entire evening.

Dance set repertoire is updated annually based on market evaluation and audience response over the past seven years. These sets may be modified to best serve the demographics and theme representative of your event.

When you have the occasion to select entertainment, feel assured that we offer years of experience in professional talent booking and theme coordination. We are also available for the scripting of your specific event program.