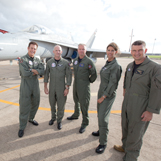 The Corps Group
Corporate Strategic Planning and Management
X
Program Descriptions
High Performing Team
Learn the processes necessary to elevate your team and turn them into a high performing organization. Our customized, high energy, high impact, multi-media, interactive keynotes will drive focus, help align your team and improve execution and delivery.
High Performing Leadership
Nothing gets done in business or flying fighters without good leaders. Dealing with today's challenges begins with solid leadership. If you are looking for consistency among your leadership team, we are going to show you how you as a team can develop and work on your Corps leadership process.
High Performing Execution
Our High Performing Execution Keynote focuses entirely on this effort. We teach strategic execution methodologies and enable individuals and teams to do it at the best of their ability - a disciplined process that succeeds every time and helps achieve the desired results.
Why Book The Corps Group?


The Corps Group will inspire your team, and equip them with cutting edge, time-tested principles, tools and techniques turning them into battle ready High Performing Team members.
They will share with you and your team the very lessons that allowed them to succeed in situations that demanded precision, teamwork, peak performance, and high-level execution so that you can achieve those same successes in your organization and personal life.
The Corps Group is an elite company of the world's finest military officers fighter pilots. What do fighter pilots know about business? After extensive training as U.S. aviators, they discovered that flying fighter jets equipped them for unmatched success in the business world. The highest performing organizations practice the same disciplines perfected by the world's finest Naval Marine aviators. The Corps Group knows what it takes to win in one of the highest pressure environments imaginable, where inconsistent execution can generate catastrophic results. Their ability to apply the processes, techniques disciplines of high performing carrier based aviation, will help you Accelerate Performance and Achieve Business Excellence. Their keynotes challenge, inform, and inspire audiences to move to higher levels of performance in a recovering economy.