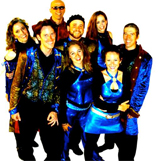 The Flamingo Express
Fun-Filled Dance Band
Traveling From
New Mexico
X
Program Descriptions
Dance hits with choreography and costume change - customized for your event
Flamingo Express members have performed throughout North America and Europe representing the United States at the World Cup Soccer Finals in Paris, performing for Federal Express in Monte Carlo, as well as for Ameritech in Brussells for two consecutive years.
Flamingo Express has built a reputation on their ability to get audiences involved. Throughout the three hours of non-stop entertainment they have the audience out of their seats, on their feet, and even up on the stage. They combine audience participation with beautiful choreography, outrageous original costuming, and the best of rock, R&B, disco, country, and contemporary music to produce an evening of entertainment that will be long remembered.
When Flamingo Express comes to an event, they not only bring the music; they bring the party.