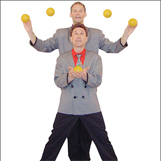 The Gizmo Guys
Comedy Jugglers
Performing as the Gizmo Guys, Allan Jacobs and Barrett Felker amaze and amuse audiences around the world. They work in a great variety of venues including theaters, corporate functions of all types, cruise ships.... you name it, they've done it. Sure, they've made numerous television appearances, won international juggling competitions, and taught at top circus schools. But what makes their act so appealing is their uniquely winning combination of dazzling technique and infectious humor. The Gizmo Guys' rapid-fire act exhilarates and inspires sidesplitting laughter in audience members of all ages.

Whether you're looking for pure entertainment or to make a training session or product launch sizzle, The Gizmo Guys will bring spark, focus, and delight to your event.

Your audience will have a terrific time—and sharing a good laugh is a wonderful way for colleagues as well as clients to bond.