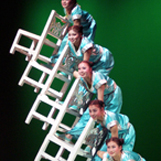 The Peking Acrobats
Kaleidoscope of Entertainment and Wonder
Traveling From
California
X
Program Descriptions
Tumblers, Acrobats, Cyclists & Jugglers
"Amazing! Zounds! The vocabulary of exclamation seeks expression as the medium of awed and surprised reaction to the wondrous feats of THE PEKING ACROBATS! In their graceful efforts these brightly costumed tumblers, acrobats, cyclists, jugglers and clever clowns provide 90 minutes of family fun that infuses springtime in New York with an extra measure of joy."
New York Times

"The Peking Acrobats® regularly passed from the seemingly impossible to the virtually unbelievable."
Los Angeles Times

Hailing from the People's Republic of China, The Peking Acrobats® have been diplomats of their spirited culture for decades. Since 1952, this elite group of gymnasts, jugglers, cyclists and tumblers has left audiences around the world spellbound by the graceful athleticism of their ancient folk art, acrobatics. From as early as age five, the hand-selected performers begin mastering disciplines that arose during the Ch'in Dynasty (225-207 B.C.), a dynamic period when acrobatic movements mirrored the pleasantries and struggles of daily life. In modern times the troupe remains the largest touring attraction of its kind! They perform under the direction and choreography of the Hai Family, whose name within acrobatic circles is synonymous with excellence. Accentuated by live music from an exotic Chinese orchestra, the Acrobats transform 2000-year-old traditions of agility and grace into a modern-day kaleidoscope of entertainment and wonder.

The Peking Acrobats® are available for their annual North American Tour, January - May with feature length and school performances.