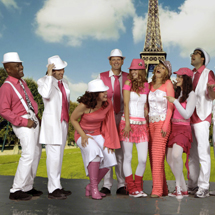 The Pink Flamingos
11 Piece Band, Brings The Party To You!
Traveling From
New Mexico
X
Program Descriptions
Custom-tailored entertainment - music, dance, & variety shows
Utilizing specialty characters, costumes, songs, and an incredibly versatile video backdrop, The Pink Flamingos have enlivened – and often helped develop – countless convention parties and multi-day theme events. We've done everything from the 70's to Broadway Musicals to Star Trek.
The Pink Flamingos are one of the most successful, dynamic, and unique entertainment groups touring the United States and the world. They have traveled throughout Europe, representing the United States at The World Cup Soccer Finals in Paris, performing for Federal Express in Monte Carlo, as well as for Ameritech in Brussels for two consecutive years.

They count among their clients and friends the best of the Fortune 500: AT&T, Ford, GM, GE, IBM, Microsoft, Boeing, AOL, Intel, Nokia, Yamaha, and DaimlerChrysler, to name a few and have been named the Official Band of the INC. 500.

The group provides a wide range of music from elegant and classy dinner music to Broadway show tunes, from themed extravaganzas to the most energetic, spontaneous dance party ever seen! The Pink Flamingos have built a reputation on their ability to get audiences involved. Their enthusiasm is contagious! Throughout their non-stop performance they have the audience out of their seats, on their feet, and up on the stage all night long. The "Pinks" combine audience participation with choreography, outrageously original costuming, and the best of rock, R&B, disco, country, and contemporary music to produce an evening of entertainment that will be long remembered.

When The Pink Flamingos come to an event, they not only bring the music; they bring the party! The Pink Flamingos are maestros of the magic that brings people together.