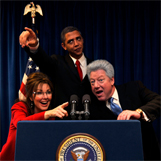 The Politicos
America's Best Political Impersonators
X
Program Descriptions
"DC Unplugged" Show
"The Politicos: DC Unplugged" is loaded with fun, fair, and balanced political humor guaranteed to draw laughs from both sides of the aisle. This 60-minute side-splitting performance features world-famous impressionist Reggie Brown as Barack Obama, Tim Watters as President Bill Clinton, Patti Lyons as Sarah Palin, and veteran comedian Tim Northern as Juan Williams.

Kicking off with four grand entrances, this political extravaganza includes customized material tailored to your business or event, a cleverly scripted Q&A, musical parody, an interactive multimedia show, and a post-show meet and greet which will provide your attendees with a take-home photo that will be a timeless memento of your corporate or private event.

Jam packed with up-to-the-minute political humor including breaking news, current developments, beltway brouhaha, and personalized material that "will knock the socks off" your audience, this performance will surely deliver the WOW! factor you're looking for every time.