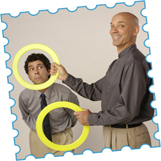 The Raspyni Brothers
Vaudevillian Humor and World Juggling Comedy
Traveling From
California
X
Program Descriptions
60 Minute Headline Comedy Show
Golf clubs balance in impossible configurations and cabbages collide midair with flying blow darts while blazing torches, 16-pound bowling balls and razor-sharp garden weasels fly effortlessly overhead. Using audience participation, hilarious improvisation, and great comic dialogue, the Raspyni Brothers pack their time on stage with a dynamic mix of skill and style. Performing together since 1982, these two catchers in the wry never fail to win over even the most demanding, hard-to-please crowds.

Morning Meetings
An appearance by the Raspyni Brothers wakes up a morning meeting faster then a dozen Starbucks double cappuccinos. They are the perfect way to energize the crowd and set an enthusiastic, upbeat tone for the day. In fact, nothing says "wake up" faster then flying machetes and 16-pound bowling balls. Their flexibility allows them to perform programs of variable lengths. Whether this talented twosome is part of a quick skit or full length program, they will catch your audience off-guard, with an energy and intensity that should be illegal so early in the morning.

Product Launch
The antigravity antics of the Raspyni Brothers will blast your next product launch into the stratosphere. Their comedy and juggling acts are the perfect illustration of the type of teamwork and calculated risk-taking necessary to bring a new product to market. Granted, they weren't there when the first Model T rolled off the production line, but very few performers have had as much experience as the Raspyni Brothers when it comes to these very special events. Their time-tested skill lets them seamlessly blend a product's key features and selling points into their one-of-a-kind comedy routines. And of course, nothing motivates a sales force like seeing a member of senior management prove their commitment by being part of a Raspyni Brothers' bullwhip or knife throwing routine. Aim high! Fuel and ignite your next product launch with two of the comedy world's brightest stars.

Trade Shows
Standing room only crowds are guaranteed when the Raspyni Brothers hit the trade show floor. Performing a rapid-fire routine that effortlessly weaves your key bullet points with uncontrollable laughter. Following each performance, your sales team greets prospects that are informed, excited, and educated about your product. Your booth will be truly unforgettable with incredible audience participation stunts, choruses of non-stop laughter, and 10 spinning basketballs that draw unwavering attention to your company logo. Barry and Dan have shattered the expectations of their clients at NetWorld Interop, Comdex, the International Home Builders' Show, Internet World, MacWorld, and countless others.

Brain Breaks
The Raspyni Brothers provide the perfect entertainment sorbet to cleanse your audience's intellectual palate. Each of their appearances is excellently prepared and perfectly timed to break up long information-heavy sessions. Whether it's over the course of an entire day, or those long award ceremonies that sometimes feel like an entire day, Barry and Dan create an atmosphere of anticipation and fun that keeps a crowd's energy up from start to finish.

Funny Business
A comedian has to think outside the box - in fact, the good ones don't even have a box! Comedy writing will open doors to new ways of thinking about problems and solutions in life and business. Hands-on exercises let participants work with tools such as exaggeration, absurdity, and word play. They will learn to write jokes, think funny, and find answers by looking through the comic lens.

VolcanoBall
This 30 - 60 minute workshop will have participants moving and laughing while playing with the Raspyni Brothers' patented invention - The VolcanoBall. It's easy to master the basic tricks while building self-esteem and relieving stress. This original toy has none of the preconceptions associated with juggling and can be used in small spaces. Business tools such as juggling priorities, cultivating relaxed concentration, and creative problem solving skills are perfectly demonstrated during a VolcanoBall workshop. A body in motion is a mind in motion. A recent study showed that activities like VolcanoBall actually increase gray matter - something modern science believed impossible.
Why Book The Raspyni Brothers ?


They create hilarious events that you'll never forget by working corporate audiences into a frenzy of fun, with their comedy, improvisation, and juggling.
They are consummate performers who have been working together since 1982, never failing to win over even the most-demanding, hard-to-please crowds.
Barry Raspyni was born with, and still has, the heart of a child.

Since his arrival on Income Tax Day in 1962, the taller Raspyni Brother has skyrocketed to an imposing 6' 1", while maintaining a very sleek 174 pounds. After extensive review of archive footage however, it is obvious that he looks both taller and heavier on television.

Moments after bumping into Dan Raspyni at a park in 1981, Barry was jolted from his path of mediocrity and knew his future would be bright.

The following summer he and Dan traveled the country performing a show that was made up as they went along. It was the time of his life. All these years later, it still is, but occasionally, Barry reflects on what might have been: pizza chef, forklift driver, or perhaps computer repair technician.

In a perfect example of just how unregulated the position of Legal Parent is in our country, Barry is a father of one boy, Zed, who was born in April of 2002. And, in a perfect example of just how tolerant, patient, and understanding the female species can be, he has been married to the same woman since October of 1987.

He is domestic, yet international. Recently, during a single week, he had breakfast on the Champs Elysees on Wednesday, and was raking his yard on Friday. He is a commercial pilot, can communicate in Morse code at upwards of 35 words per minute, and converted his VW Westfalia to a real vehicle by single-handedly outfitting it with a Subaru engine.

His intent is to never fully grow up.

Dan Raspyni was born in 1961 by Immaculate Conception (at least that's what his mother says).

His formative years were spent in the culturally deprived paradise that was California's San Fernando Valley in the 1970s. Wanting the easy money and warped reality enjoyed by child movie stars, he began taking speech and acting classes. At age eleven, he landed a supporting role in the cult horror classic, It's Alive.

After graduating from high school in 1978, he applied to the school of hard knocks, but was rejected because he had too much money.

In 1980 he set out on a quest to find the long lost brother he never had. After years of searching high and low, he started looking in the middle. It wasn't long before he located his unrelated sibling, Barry Raspyni, and the rest is history (or to be more accurate, their story).

Dan Raspyni enjoys tournament-level ping pong, internet poker, watching movies, and eating bland foods that are low on the glycemic index. An avid reader of high-brow literature, it's not unusual for him to read two celebrity tabloids in a single day.

Dan lives in San Francisco with his lovely wife Karen, their two pets, and a house full of furniture.