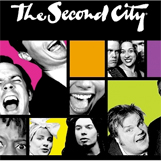 Second City Works
Improvisational Theater Company
X
Program Descriptions
Funny Business: the Live Customized Comedy Show
Interactive Talk Show
BizQuiz: the Game Show About Your Company
Improv Keynote
Why Book The Second City?


They have helped hundreds of people expand their training and communication programs using improv to develop teambuilding, creativity, branding, and leadership in their organizations.
Second City Communications is a creative services company that helps clients communicate better - with customers and with themselves. The Second City has taught people how to perform, persuade, present, listen, entertain, improvise and build tight ensembles for over 40 years, and they've birthed hundreds of stars on the stage and in film and television.

Show business and your business have more in common than you think, and Second City Communications can help you find your voice on your stage. They'll help you communicate your message with clarity, impact and a little zip. In other words, they use show biz to help you excel in your biz.

Second City offers:

Live Messaging and Corporate Entertainment:
All over North America, Second City Communications has been bringing humor to thousands of corporate events. Using The Second City's unique brand of improvisational humor, SCC's crack comedy ensemble can customize material for your next project. You can use their programs to reinvigorate hardworking troops, thank loyal customers, launch new products, support internal marketing messages and add impact to any range of events and ideas.

Corporate Training and Workshops:

Business, like life, is improvisational. You can plan all you want, but in the end, business is often about building relationships and adjusting to change as fast as it happens. As the world's premier improvisational theatre, Second City know a little about that. You can learn how to become a better communicator, build a stronger team, create a more positive work environment, and stimulate creativity.

Second City Communications and The Second City Training Center have taught tens of thousands of students to achieve results by applying improvisational techniques in the workplace.

Creative Marketing Services:

They know how to tell a compelling story and get a response. Their actors and writers can create marketing messages, character-based advertising, and sales videos that reach and move audiences to action. Plain and simple. Not only will it be entertaining, it will be memorable.

In short, they're part theatre, part communications consultancy, and part creative wellspring. They're everything you want, but nothing like you'd expect.