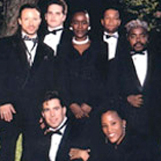 Stephen Wise & the Edge
Fantastic Musical Entertainment With a Diverse Repertoire
Traveling From
Pennsylvania
X
Program Descriptions
Fantastic musical entertainment
Stephen Wise – Band Leader, Vocals, Sax, Flute, Didgeridoo, Keyboard & Indigenous Drums
Bandleader and lead vocalist for the EDGE for the last 20 yrs with a track record of total success stories in the private party industry. His reputation continues to be stellar and is described by satisfied clients as being confident, smooth and charismatic when running the party, not to mention the sweet soulful tones of his voice that has people talking about the EDGE and "that amazing party" for weeks, months & even years. He says: "It has always been my mission to create events where the music feels so good it makes you wanna scream ahhhhoo!!!! on the dance floor. Where a 4 hour party feels like 1hour because the music transcends time and space and everyone attending feels comfortable enough to truly let go. It's actually a healing experience."

Stephen Wise is a vocalist and multi-instrumentalist like sax, flute, didgeridoo, keyboards and indigenous drums. He has worked with some of the biggest names in the music industry like Stevie Wonder and was featured on two of his CDs "Jungle Fever" & "Characters". Also either performed or recorded with names like Patti Labelle, Boyz II Men, The Roots, Britney Spears, and Teena Marie to name a few. He gained global visibility appearing and competing on Star Search reaching a semi-finalist status.

Besides being the bandleader for The Edge, Stephen is also an acclaimed music producer and has produced projects for Katriel (his artist name), where he has amassed 6 recorded albums of his own original music which can be found at www.katrielmusic.com. Stephen also produces and cultivates many upcoming artists, singers, poets and spoken word-ologists.

In 1990, when Nelson Mandela was released from prison and appeared at the steps of City Hall in Los Angeles, CA, Stephen aka, Katriel performed to embrace and honor him. Most folks can recognize the names of many of the EDGE clients, like the surprise party of Former Pennsylvania Governor Ed Rendell at the Philadelphia Society Hill Sheraton Hotel. Then there was the wedding of Mellissa Katz, the daughter of Harold Katz the owner of the Philadelphia 76ers basketball team. During his ownership, he brought the 76ers to their most recent NBA Championship win in the 1982-1983 season. Then there was the wedding of Khadijah Bell, the daughter of Ronald Bell, original member of Kool & the Gang who was so compelled by the music that he had to get on stage with The Edge and join in on several renditions of their own blockbuster hits! Other parties of note include, David & Marla Green owners of First Trust Bank, the Hess family, owners of the Hess Gas Station chain, and in June of 2012, the band flew to Miami, FL to perform for Philadelphia Eagles Quarterback Michael Vick's wedding, where Vick and coach Andy Reid both said the band was "phenomenal". The list goes on and on………… available upon request.

Doug Grigsby III – Music Director, Bassist, Arranger
Grammy-nominated bassist & music producer, Doug C. Grigsby, III has had a quest to be the next "Q" Quincy Jones in this lifetime. I would say he has had more than a head start with the line up of artists on his roster as a writer, composer, and producer, in addition to touring with an incredible host of national top acts.

Grigsby was already a well sought after bassist in the music industry by the age of 18. His record of success includes recording and touring with top recording artists such as Michael Jackson, Patti Labelle, Stephanie Mills, Cher, Luther Vandross, Phyllis Hyman, Rick James, Mikki Howard, Paula Abdul, Taj Mahal, Mariah Carey, Jennifer Love Hewitt, Regina Belle, Ann Nesby, Brandi Wells and so many more! Grigsby was Senior Producer for The Serena Sol Brown Show, but his most notable role was being music director for "The Ivory Queen of Soul", Teena Marie which resulted in numerous chart topping hits and live performances until her untimely death in December 2010.

Doug Grigbsy continues his work as a composer and producer with pure love and committment believing always that he never has to boast about the great gifts God has given to him. He will tell you …"my work is self-explanatory!" Doug's modesty, down home and fun-loving charasmatic personality is felt in every moment of his music whether live or on record. He plays with his soul and he is the master of accomplished sounds and genres namely….Funk, R&B, Jazz, Gospel, and Pop. He is "DG" in the light of a "Q" determined to fulfill his purpose!

Tony Flagiello – Drums
Drummer and producer Tony Flagiello, aka "Tony Catastrophe", has been on the Philadelphia music scene for the last thirteen years. He made his presence known in the late 90′s with the popular grass roots band Fathead. Since then, Tony has been one of the most sought after drummers/percussionists in the Philadelphia area. His skills cover a wide range of genre which allows him to perform just about any style of music you can think of. His desire to be in many projects gives him the variety and technique needed to achieve the experience in handling any task. His styles range between jazz, rock, Latin, funk, hip-hop, R&B, Reggae, live electronica as well as world music. He has recorded and performed with some of Philly's finest and most elite musicians such as: Jamaaladeen Tacuma (Ornette Coleman), Bernie Worrell, Ursula Rucker, Chuck Treece, Leonard Hubbard and Scratch (The Roots). Tony has shared stages with George Clinton, Maceo Parker, Iggy Pop, G-Love, Fishbone, NIN and Slipknot just to name a few. As a music producer, Tony is creating tracks and licensing material for TV shows, commercials, movies and internet advertisements as well as producing bands of all styles. His knack for laying down a solid foundation on the drums, sets the tone for the rest of work that goes into all of his music.

Steven Page – Keyboards
Steven Page, the band's youngest member is a native of Philadelphia and has been making music since the age of nine. Although young, he is truly an "old soul" as his music and touch are as sweet as anyone in our industry. Steven graduated from the Creative and Performing Arts High School of Philadelphia majoring in instrumental music and minoring in Choral music. His passion is to educate children in the art of music. He is the Assistant musical director of the Children of the Arts Foundation (COTA) where the foundation strives to educate and inspire children to succeed through the arts of singing, instrumental, dance, and performing. Steven believes "Without music, the world would be a dry place", he plans to continue to hydrate the world through his music and educate children to reach higher heights and deeper depths to reach their highest potential.

Taphy Spencer – Vocalists
This rising star has been known to grace her audiences with memorable ballads, including standards, like "Somewhere Over the Rainbow," and more contemporary fare, such as Stevie Wonder's "Ribbon in the Sky," her signature song. "I love ballads because I think they paint a vivid picture of emotions, she says. "They give any artist the opportunity to showcase their vocals." She's been compared to Whitney Houston, but her style also includes the feeling of Mary J. Blige with the execution and vocal arrangement of Brandy. Spencer, a true singer's singer, has a broad array of influences and no musical limitations. You can find elements of rock, gospel, hip-hop and jazz throughout her cd (she even raps on one of her songs). "What appeals to me is quality music," she states categorically. "If it''s of good quality, then I love it!"

In June of 2008, Spencer was casted as Mrs. Newman in a play entitled, Jewel, where she won an award for best vocalist. Spencer has recorded and executive produced her debut EP, Dreamer as an independent internet release in September 2010.

Niambi Mi Chele – Vocalist
Niambi Mi Chele, the apprentice of the legendary bassist, songwriter, producer, and engineer, Douglas Grigsby III; is an entertainer, singer/songwriter, vocal arranger, upcoming producer, and recording engineer. Niambi received theatrical training from Philadelphia's own Freedom Theatre. As a former member of 105.3 WDAS's Children's Gospel Choir, and she also is a Unison TV Kids & Settlement Music School Alumni. Niambi has been cultivating her soulful sound throughout her life. Currently, Niambi is the Production Supervisor at Philly Style Studio Entertainment Group located in the heart of South Philadelphia, while being one of the lead singers for the "Steve Wise & the Edge" event entertainers. When Niambi is not performing with the Edge, she is working on her heavily anticipated album, "Psych Ward", which is slated to be released in the Spring of 2014. To her production credits, Niambi has worked with Japanese artist, Steph Pockets on her album "Forever" which was released in January 2012, where Niambi was a major contributor.

Shelia Moser – Vocalist
Shelia Moser, born and raised in the city of Baltimore, MD is the musical product of many influences: gospel, jazz, and soul, to name a few. She started in church, singing with her siblings in the children's choir. At a young age it was clear that music was her gift, having written and composed songs before the age of ten years old. She grew up listening to Yolanda Adams, Kim Burrell, Whitney Houston, and Ella Fitzgerald, to name a few. In high school she attended Baltimore City College, and there she cultivated her gift in singing and playing the trumpet. She also realized her love for making beats and instrumentals. Shelia sang in the world-renowned Baltimore City College Choir under the direction of Ms. Linda Hall. In the choir, she found her voice, and was inspired to further her career in college at Temple University, where she is now a senior studying vocal jazz performance. Shelia sings for various groups in the tri-state area, including Therron Fowler & Soul Theory, Dyron Booker & Divine Destiny, Angela White & One Sound, and Afro-soul singers Ene Live and Yemi. She also performs solo sets around the city of Philadelphia. Shelia (popularly known as Lee Mo), now 21 years old, is young, but mature in sound. She knows what she wants and she commands freedom and excellence from her band and singers. She uses her gift to heal and minister to those whose ears come in contact with her music.