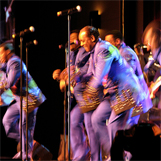 The Temptations Review
Motown Legends
X
Program Descriptions
An Evening of Music with The Temptations Review featuring Dennis Edwards
Why Book The Temptations Review?


They Will Stir Your Memories and Transport You Back to Motown.
The Temptations Review featuring Dennis Edwards knows how to generate wonderful "Memories" as they entertain audiences around the globe. For more than 33 years Dennis Edwards, one of the last surviving members of the legendary group "The Temptations," has been considered a giant in the music industry.

Born February 3 to Revered and Mrs. Dennis Edwards, Sr., he began singing as a toddler, just 2 years old, in his fathers' church. By 1961, he had organized his own group "Dennis Edwards and The Fireballs". Five years later, he joined the recording group, "The Contours". The Temptations career began in 1968, when Dennis Edwards was selected as a replacement for lead singer David Ruffin.
The public was not to be disappointed. With the presence of Dennis Edwards, The Temptations enjoyed some of their most remarkable achievements. Beginning with a long string of # 1 Hit recordings, such as: Papa Was A Rollin' Next to You, and many, many, more. Than, the first Grammy award was won by The Temptations, with Dennis Edwards as lead singer. Concurrently, this award was also the first for MOTOWN Records. The award launched a succession of awards that culminated in 14 (Fourteen) Gold Albums, 7 (Seven) Grammy nominations and 5 (Five) Grammy awards.
Dennis Edwards began with The Temptations as a very young man with a grand future. Today he is a versatile, and skilled, professional artist.
Utilizing his unique style, and smooth delivery, Dennis Edwards is known as one of the most influential singers in the history of Pop music. His 1989 induction into the Rock & Roll Hall of Fame, and his 1999 induction into the Alabama Hall of Fame confirm this fact. The sales of over 100,000,000 recordings move audiences across the generations, from pre-teen, to mature citizen.

Don't look any further; performing to sold-out audiences around the globe, "The Temptations Review featuring Dennis Edwards" stir the memories of loyal fans as they create new ones, both young and old. The Legend continues with…

ALI WOODSON----
Recognized as one of the most distinguished voices in the music world today, Ali Woodson continues consistently to enrapture audiences with his sparkling voice. Born in Detroit, Ali started singing at the age of four in the local church choir. At seven he won his first talent show, one of many awards to come throughout his school days. His incredible vocals and unbelievable range have led him to work with many other greats in the industry. A multifaceted performer, he plays several instruments including keyboards, bass, and drums, he writes his own music, lyrics, and arrangements, and produces recordings. Woodson performed with legendary groups such as "The Drifters" in the early 70's, and later replaced Teddy Pendergrass with "The Blue Notes". For over thirteen years he was the driving force behind the legendary "Temptations". Contributing original material for many great new songs Ali Ollie Woodson put the "Temptations" back on top of the Pop an R&B charts with his "Treat Her Like A Lady", which went gold. His intoxicating delivery of Treat Her Like A Lady continues to be a favorite now that he has joined forces with the dynamic Dennis Edwards and the Temptations Review.

DAVID SEA----
This espresso tenor, personally chosen by Eddie Kendriks for the group, like his '91 release, was "Born to Sing". With a Minister mother, it is understandable that the multi-talented Mr. Sea began his career in gospel, as well as, rhythm and blues.

Thrilling millions all over the world, Mr. Sea is distinguished in Japan and Europe for his soul stirring albums: "Oceans Apart" (England '90), "Searching for Love" (Japan '95), and "Groove Mission" (Japan '96).

Mr. Sea is also known in the United States for his accomplished 3-Star acting talents. He has captivated audiences across the nation with his appealing presentations in "God's Trying to Tell You Somthin" (94-95); the unforgettable portrayal of 'Oscar' in "Things Ain't What They Used to Be" (96), and his stellar performance in "Somebody Ought to Tell God Thank-You" (97).

In his extraordinary rendition of "I Wish It Would Rain", this very talented man brings the audience into his delivery and sends the crowds wild. Doubly blessed with talent, you will be delighted, soothed and excited when you hear melodic and soulful voice.

MIKE PATTILLO----
With roots deep in music, Mr. Patillo began singing at the age of 4 in the church where his mother was choir director. His father studied piano at Wayne State University, as well. He continued singing in the glee club in his school, finally forming his own group at the ripe "old" age of 11. In those days he was a tenor. When he turned 13 that voice went down to a deep bass. Mr. Patillo established the group "The Five Special" in 1973, ultimately singing with Electra/Asylum Records, scoring a hit with "Why Leave Us Alone" in 1979. Mr. Patillo's rich deep baritone is a voice you will not quickly forget.

CHRIS ARNOLD----
Singing with his family's Gospel group at the very young age of 5, Mr. Arnold began his professional singing career. In 1969, he organized the singing group, "Symbol of Love", Joining "The Temptations Review" in 1992, Mr. Arnold's vocal contributions greatly enhance the legendary sound we all know and love.