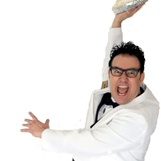 The Wacky Waiter
Visual Comedian …One Man Detour to Hilarity!
Traveling From
Pennsylvania
X
Program Descriptions
The Wacky Waiter stage or strolling dinner acts
Pete Geist is a 12-year-old trapped in the body of a 36-year-old man. If Geist were an accountant that might be a problem, but for Geist, a professional comedian, it's a good thing. Geist has been performing his one-man show for 17 years and has been featured at the International Children's Festival in Virginia, the National Theatre's Family Series in Washington, DC, and the Goodwill Games in New York, among other venues throughout the United Sates, Canada and Europe.

Geist performs 150-200 shows per year. He makes magic, pantomime, juggling and physical comedy work for him when he entertains audiences. He also plays The Wacky Waiter. This formal but buffoon-like waiter creates havoc, mayhem and laughs galore. Either as a stage or strolling act, bringing his dinner diversions to parties for all sizes of events. Awards banquets, cocktail hours, Christmas parties, corporate sales meetings, or any event that you want to produce fun and memorable times, The WACKY Waiter is your guy!

Growing up in Lancaster, PA, Geist, who was always a bit of a class clown, had a life altering epiphany when he was about 9 years old. Geist ventured into a magic shop at the local mall; there he encountered a magician who performed tricks in the back of the shop. "I saw this guy do a trick with a sponge ball and something inside me just clicked," Geist said. Geist thought to himself "this is something that I can do."

Geist's comedic training began with his father. "My dad is a real joke teller. He's a pretty funny guy," said Geist, who remembers watching old variety shows, like "Dean Martin's Celebrity Roasts", with his father. This laid the foundation for Geist's future career.

When he was 14, Geist got a summer job at a local amusement park picking up trash and cleaning toilets. The real bonus came when he was able to perform his act on weekends at the park. He worked about 30 hours picking up trash, doing heavy work, sweating and getting dirty, and when he got his first paycheck, it was about $60. For one Saturday show, he earned $100 and he was doing what he loved. That is how Geist got started in the business.

For the next few summers, Geist continued to work at the amusement park honing his skills. After graduation from high school, he toured the country for 18 months with a fellow entertainer, who performed a ventriloquist act. Having gained a wealth of experience, Geist began to market his act, known professionally as "GEIST", and found steady employment appearing at schools, business functions and various performing arts centers around the country. Geist's performance is mirrored after European clowns who rely on physical humor and not the typical American clown who sports the big red hair and floppy shoes.