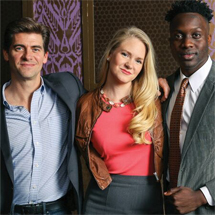 The Water Coolers
Hilarious songs and sketch comedy about life and work performed by top Broadway singers and comedians
X
Program Descriptions
IF A TREE FALLS IN THE WOODS
If an audience is checking their cell phones, they're not getting the content no matter how useful it is. The trick is to deliver great content in a way that keeps an audience leaning in -- that's why this keynote has such great impact. Or as sales guru Jeffrey Gitomer says, "The end of laughter is followed by the height of listening."

PRACTICAL CONTENT THAT RINGS TRUE
Audiences are looking for information that will help them perform better and do more. That's what our session was written to deliver. It's accessible, makes sense, and because it's delivered with music, it sticks in their minds helping them to really make of use the content when they get back to "real life."

THE ROOM COMES TO LIFE
Events days are PACKED with sessions and information. Sometimes you can just feel the room slowing down. But the information you're there to share is important -- really important. How do you keep people connected? This session is like flipping a switch to energize your event.

THE GOLDILOCKS KEYNOTE
Some people are delivering death by PowerPoint and others are entertaining, but really don't deliver any content. In the end, it's about balance. The Water Coolers deliver a truly funny keynote -- a comedy show really -- that drops in nuggets of useful content while we've got them focused on us.
Why Book the Water Coolers?
Anything that you hear about around the water cooler can be related to in this hilarious comedy improv, sketch, and keynote troupe - the perfect entertainment for corporate minded folks!
They don't just entertain, but also impart real world advice and lessons gathered from the very comical situations that will leave you in stitches
For nearly 15 years, THE WATER COOLERS have entertained audiences around the world, as far reaching as Singapore and Australia, with their high energy, uncommonly funny, honest takeon work and life. Smartphones, conferencecalls, kids, co-workers, and travel are just a few of the topics this group of top NYC talent turns into hilarious sketch comedy and song. They are one of the few acts to win Event Solutions magazine's Spotlight Awards for Entertainment of the Year multiple times.

The performing cast is made up of New York professionals with resumes including top comedy clubs like Igby's, the Improv, the Comic Strip, and the Icehouse as well as many Broadway production including Gloria Estefan's "On Your Feet," "Jersey Boys," Carole King's "Beautiful," "Dear Evan Hansen," "Wicked," "Rock of Ages," "Legally Blonde", "The Adams Family" "Chicago" "Hair", "Pippin", "In The Heights ," "Les Miserables," "Mamma Mia," and "The Boy From Oz" with Hugh Jackman.

Their writing team mixes professional comedy writers with people working in the "real world" to deliver an authentic and funny take on work. The team is headed up by one of the creators of New York's longest running comedy hit ever, "Tony n' Tina's Wedding" whose other comedy credits include numerous appearances on The Conan O'Brien Show, and voicing Peanut on the Cartoon Network's cult hit, "Harvey Birdman, Attorney At Law," also starring Stephen Colbert and Gary Cole.

Clients include Fisher Price, IBM, Hewlett Packard, Microsoft, Boy Scouts of America, Brother International, Bingham, and Genentech among many others.