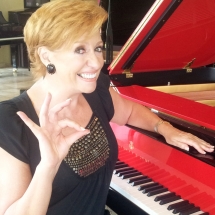 Theresa Behenna
Motivation & Humor meets Music with a Message
X
Program Descriptions
Change your Tune, Change your Life!
Motivation * Change * Teamwork * Humor " Attitude
A unique combination of audience interaction, live music, relevant message and funny stories results in hilarious teamwork, high energy and maximum engagement that leaves attendees glad they attended! Customized content ensures industry relevance with points emphasized by popular songs played on piano and demonstrated by team games throughout the presentation. Audiences learn how attitude is key to seeing change as opportunity versus being fearful and negative. This program is popular with all generations and meeting planners looking for something different.

Happy Customers are Loyal Customers!
Motivation * Customer Service * Teamwork * Innovation * Humor
< In today's crowded marketplace organizations are finding it a challenge to attract and keep clients with so many businesses competing for the same customer. So how do you create a culture that influences people to buy from you versus the other guys?

In this humorous presentation audiences learn the three keys to being part of a successful team that delivers excellent customer service and impacts the bottom line. Practical ideas mixed with popular music, compelling stories and interactive games, guarantee attendees to be fully engaged, entertained and ready for action!
Why Book Theresa Behanna?


Using mastery of the piano as parallel principles for success, her interactive fun presentations teach audiences the tools needed to excel in their field of business. They work for everyone in any career. Always.


Theresa's experience in communicating with different cultures and generations, negotiating performance contracts, adapting to changing markets and appearing before celebrities, gives her the unique ability as a speaker to mix relevant content and compelling stories with dynamic entertainment and hilarious humor to produce positive change in people's lives.
Theresa Behenna is an award winning keynote speaker, acclaimed international pianist and recording artist whose passion in life is uplifting people through the power of humor and music with a relevant message to motivate them to greater success. She uses amazing piano skills and hilarious stories to teach the tools that took her from playing piano for nine people in an Australian pub to the 2006 Olympics in Italy. They work for everyone in any career. Always. Having traveled the world as an entertainer and small business owner, Theresa's experience in communicating with different cultures, adapting to changing markets and appearing before celebrities, gives her the distinct ability as a speaker to combine practical content with dynamic entertainment to produce positive change. Since 1998 Theresa has been speaking to associations and corporations nation-wide with a customized message and unique approach that has resulted in clients like EXXONMOBIL that wrote: "Your unique keynote presentation was fully engaging, inspiring, practical and funny!"

As a member of the National Speakers Association, Theresa won the John Wolfe Award for speaking excellence and served on the Houston board for many years.

Her piano CD "Songs for Friends" is a popular selling album of classic hits, soft rock, Broadway songs and movie themes.

Theresa lives in Houston where she plays tons of tennis but has yet to sound anything like a Texan 'coz she's busy putting another shrimp on the barbie.