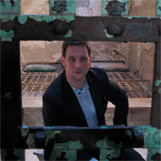 Thomas Solomon
Master of Escape and Illusion
Traveling From
New Jersey
X
Program Descriptions
Mysterious Illusions and Great Escapes
During his career, magician and escape artist, Thomas Solomon has convinced audiences that "nothing can hold him." He has escaped over 1,000 pairs of handcuffs locked on by more than 600 law enforcement officials, defeated an assortment of chains, irons, and shackles from Alcatraz, Devil's Island and the Bastille, been trussed up and thrown into rivers, freed himself from a maximum security jail in Brooklyn, New York and from a cell in the high security sector of London England's Pentonville prison. The complex rope ties of sailors from the USS John F. Kennedy and Her Majesties Royal Navy have fared no better at restraining Solomon. For network television, he escaped a locked burglar-proof safe underwater and an airtight locked money bag.

It was in Chicago that Solomon's unique combination of magic and escapes was born. The featured midnight act at a trendy club, Solomon captivated the "seen-it-all, done-it-all" crowd with the world's first FULL VIEW escape artistry act. As a marketing ploy, the club instituted a "reward" of one thousand dollars should anyone restrain the magician. There were no restrictions and audiences relished the ability to challenge the magician with an array of devices brought from attics and garages; a sampling included, pillories, wooden and iron export cases, rusted tire chains, canvas sacks, Spanish Maidens, S&M devices, footlockers, a wrought-iron gate, wooden kegs, hospital restraints, fishnet, and various types of straitjackets including a custom-made all leather restraint. Never forfeiting the thousand dollars, the club did assist in paying the medical bills brought on by this act.

The long, slender fingers that allow Solomon to crack safes and open handcuffs, also allow him to perform amazing sleight-of-hand with playing cards, coins, handkerchiefs and all manner of objects. A selected playing card, torn into four pieces and signed by the spectator magically restores itself within the magician's hands. A coin borrowed from a spectator mysteriously spins, four feet off the ground!!! Rings penetrate knotted cords, signed cards appear in a zippered wallet, handkerchiefs disappear, change color, and multiply; currency takes on other shapes and other denominations within the magician's hands. The unique stagecraft needed for his escapes makes an assistant levitate out of the arms of the magician and vanish from a wooden chair.

His published works include: Diaries of An Escape Artist (1999), Escape! (2003) and Escape Velocity (2004).