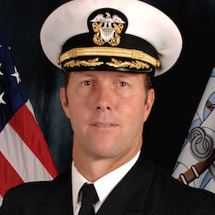 Tom Chaby
Navy Captain (SEAL, Retired) Leadership, Performance Optimization, and Resilience
X
Program Descriptions
Leadership in chaos; Embracing disruption
As leaders, we constantly talk about aligning objectives, situational awareness, dealing with ambiguity, and adapting to unpredictable conditions. Captain Tom Chaby, an active duty US Navy SEAL officer, talks about the reality of developing and training the very best of our military's special operators to be successful in situations where the environments are all but guaranteed to be dynamic and disrupted, with deadly serious implications possible. While failure in your environment may not result in the consequences faced by our military special operators, you can draw on lessons from them on how to lead successfully in fast-moving, hyper-dynamic conditions with limited predictability. Join us and learn how to change your team into one that not only can handle the challenges of chaos, but learn strategies to embrace disruption and use it to your advantage.
Handling pressure; The most important SKILL when it matters most
The ability to handle pressure is often the difference between success and failure and at times it can even be the difference between life and death. Captain Tom Chaby, an active duty US Navy SEAL officer, talks about handling pressure and performing at your highest level when it matters most. Learn how Navy SEALs prepare their warriors to dominate under the most daunting pressure imaginable. Learn how a simple perceptual change can shift you from being a "choker" to someone who excels under pressure. If your organization is committed to improving your bottom line results, pressure will undoubtedly increase. Join us so you can develop the necessary tools to help take your organization to the highest levels of success possible.
Failure is not an option
(The Five Key elements that make SEAL Teams successful) – Have you ever truly been part of something where failure, was not an option? Captain Tom Chaby, an active duty US Navy SEAL officer, talks about what it takes to ensure mission success in the most difficult conditions imaginable while preventing injury and death. In this presentation, you will be exposed to everything from the SEAL culture to the unique leadership principle "teamability." Join us and learn that when failure is not an option, the possibilities of success become limitless.
Captain Tom Chaby served as an active duty US Navy SEAL for 26 years. Throughout his career, Tom spent over 12 years deployed to over 70 countries around the world leading special operations at every level. Shortly after 9/11, Captain Chaby deployed to Afghanistan leading a Task Unit of 50 SEALs and support personnel conducting special operations in support of the initial stages of Operation ENDURING FREEDOM. During the latter part of the critical fight in Fallujah, Tom led a Task Force of over 400 personnel conducting full spectrum special operations in support of Operation IRAQI FREEDOM. Earlier in his career, Tom lived in South America leading Counter Drug Operations throughout Colombia and the region.
Outside of the operational realm, Tom worked relentlessly with developing and ensuring performance optimization for the SEAL community and developing resilience for the entire 67,000 members that comprise the Special Operations community. During his five-year tenure as Deputy Commanding Officer of the SEAL Training Command and as a SEAL Instructor, Tom was integral in developing the current generation of SEAL operators. While directing the US Special Operations Command (USSOCOM), Preservation of the Force and Family (POTFF) effort, Tom worked closely with Congress to shape programs, authorities and resources to help the entire Special Operations community build and sustain full spectrum resilience: physical, psychological, social and spiritual. At USSOCOM, Tom created a multi-year suicide prevention-working group comprised of surviving spouses and teammates to incubate de-institutionalized solutions to suicide prevention. He also worked hand-in-hand with globally recognized leaders from academia, to include Stanford University, Palo Alto University and the University of Pennsylvania developing strategies to build resilience in populations at risk for suicide. Captain Chaby's work and results were reported in the NY Times, USA Today, Sports Illustrated and multiple other local publications. His efforts have directly improved operational readiness and the wellness of the force.
Tom is currently a team member of the industry leader in performance optimization, EXOS, where he helps build resilience programs. Additionally, he serves his teammates today as the Co-Executive Director for Warrior-2-Warrior (W2W) where he has developed a national level program that synchronizes full spectrum resilience to reduce veteran suicide. Captain Chaby has established himself as a leading expert in veteran resilience and suicide prevention. Tom is a guest lecturer at the University of Pennsylvania and has been the keynote speaker at multiple summits focused on suicide prevention and resilience. Tom is a public speaker focusing on leadership, performance optimization and resilience. He collaborates with Fortune 500 corporations, sports teams and universities by bringing his experience and insights to help organizations grow. Tom has spoken to and worked with Bill Gates, Dennis Washington, CBRE leadership, Intuit leadership, American Medical Association (AMA) Conference, "The Ortho Biologic Institute," Coach Saban and the University of Alabama Football Team, Coach Garrett and the Dallas Cowboys, the New York Mets, and the New York Yankees coaching staff along with dozens of other high performance organizations.