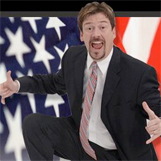 Tom Mabe
The Comic with a Cause!
Everyone from Paul Harvey to The New York Times has proclaimed Comedian and Speaker Tom Mabe a "comic superhero" for tackling pesky telemarketers, junk mail, bad customer service and other topics that irk us all.

By making audiences across America laugh for over 15 years about the annoyances of modern life, Tom proves that it pays to think creatively. When it comes to thinking outside the box, he's nowhere near the box. He can help your team ignite a creative spark, too.

Tom has been profiled in People Magazine, called "gut-busting hilarious" by the New York Post and given a perfect 4-star rating by the New York Post. He's been featured on radio shows from Hollywood to Dollywood, including "Bob & Tom," "Johnboy & Billy," "Bill Handel" and "Drew & Mike."

Chances are you also know Tom as the star of CMT's hit comedy series, "Mabe In America" or have watched one of his popular viral videos. With more than 50 million views on YouTube.com alone, he's one of the most downloaded people on the planet.

During his corporate shows, Tom shares his unique skills coping with life's challenges, ranging from a chaild with a microscopic attention span to a family vacation that takes a wrong turn in a minivan. Along with his hilarious stories and original songs, Tom also will customize a video for your company starring pre-selected employees, delivering lots of laughs for your entire team.