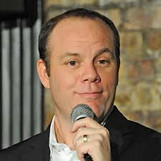 Tom Papa
Stand Up Comedian and Actor
Traveling From
California
Why Book Tom Papa?


While his comedy is both topical and self-deprecating, one of Tom's true talents is his ability to cater his set around his audience.
As a veteran stand-up comedian, Tom uses his down to earth humor and wit to bring the house down with laughter.
Tom Papa just most recent stand-up "Freaked Out" aired on Epix and Netflix in July 2013. Tom has recorded three stand up specials for Comedy Central, the most recent of which is the one hour stand-up special, Tom Papa Live in New York City that was shot at the Union Square Theater and directed by Rob Zombie. The special appeared on Comedy Central on January 8, 2012. Tom has thirteen appearances on the The Tonight Show with Jay Leno. In 2005 he released his debut comedy album Calm, Cool, & Collected. He is a frequent guest on Late Night with Conan O'Brien andLate Show with David Letterman. His one man show Only Human opened to rave reviews at the Montreal Just for Laughs Comedy Festival.
Tom started his stand-up career in New York City in 1993 playing open mics and hosting at the Stand Up New York comedy club. Papa got his first big break when he was hand-picked by comedian Jerry Seinfeld to perform on his tour after meeting at the Comedy Cellar in New York.
Tom is the host of the popular hit Sirius/XM show Come to Papa that airs on channel 99. The weekly program has attracted some of the biggest names in comedy including Mel Brooks, Ray Romano, Dick Cavett, Carl Reiner and Jerry Seinfeld.
Tom completed the role of Ray Arnett alongside Michael Douglas and Matt Damon in Behind the Candelabra for HBO Films, due to be released May 2013. This is his second film with director Steven Soderbergh.
He played opposite Matt Damon in Steven Soderbergh's 2009 film The Informant! He also played the title character of El Superbeasto and starred opposite Paul Giamatti in the Rob Zombie animated feature The Haunted World of El Superbeasto. He played himself in Comedian, and lent his voice to the animated feature Bee Movie.
In 2010 Papa began hosting of NBC's The Marriage Ref,[4] which ran for two seasons.
His other TV appearances include a recurring role on The New Adventures of Old Christine, VH1's I Love the '70s, I Love the '80s, and I Love the '90s series.
In 2018, Tom Papa's new show Baked premiered on the Food Network.