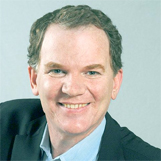 Tom Ryan
Headline Comedian with Original Style
Why Book Tom Ryan?
Tom has a passion for stand up - he has over 20 years experience of it - but his favorite brand is business humor. His special brand of humor revolves around researching a company and compiling a hilarious, clean program designed specifically for his audience
Sure, Tom Ryan has two Late Show with David Letterman appearances and twenty years of standup comedy experience under his belt, but, it's his ability to customize clean, original material that makes him a natural fit for your next corporate event. "I like the process of researching a company and then writing material about it," says Ryan. "People like hearing about their organization from an outside perspective. And as it turns out, the world of business is a lot funnier than people think."

In addition to being the opening act for Jerry Seinfeld, Aretha Franklin and BB King, Tom Ryan performs for corporate events and is a regular at all the top comedy clubs in the country including the Tempe Improv, Atlanta Punchline and Denver Comedy Works.

Tom's no stranger to television either having appeared on The Late Show with David Letterman, Comedy Central, NBC's Late Friday and Showtime's Comedy Club Network. He now resides in New York City and recently released his first comedy CD entitled Downtime Enthusiast.

At a recent event for JD Edwards, the computer programming giant, Ryan noticed a press release on their website. It said they had recently landed the Land O' Lakes Butter account. Ryan congratulated the audience on the fact that, because of them "the world of butter was finally going high tech." He created a scenario in which programmers sat around discussing butter while using nothing but computer terminology.

One of his best known routines centers on the profitability of two well known products, Morton Salt and Arm & Hammer Baking Soda. "I've always wondered how the Morton Salt Company makes any money. How long does it take you folks to go through one of those big blue drums of Morton salt? Five years? What did you pay for it — a quarter?" As for baking soda, Ryan points out that, in one of the most brilliant marketing strategies of all time, the company has convinced its customers to pour their product down the drain!

Tom has performed for hundreds of companies including Cisco Systems, MasterCard, Morgan Stanley, Continental Airlines, and Time Warner Cable.