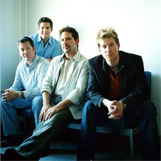 Tonic Sol-Fa
Emmy Nominated A Cappella Quartet
The New York Times describes Tonic Sol-Fa's sound as "A vocal kaleidoscope...unique to the human voice." Improvisational and passionate music combined with cutting-edge stage presence is the benchmark by which critics and fans agree: nobody does it like Tonic Sol-fa.

Although they are simply four voices and a tambourine, Tonic Sol-fa has spent the past decade on the road carving their niche as the nation's top vocal group. In that time, this quartet has been named one of the top five "must see" groups in America, has been awarded numerous original song and album awards in pop, gospel and holiday genres, appeared on NBC's Today Show and in the pages of Newsweek magazine. Outings with Jay Leno, Shawn Colvin, Lonestar and Garrison Keillor have propelled album sales to more than 1,000,000 copies and have earned the group thousands of intensely loyal fans.

By 2000, the quartet was voted into the Midwest Music Hall of Fame. In 2002, Tonic Sol-fa averaged over 150 shows annually in 48 states. 2005 brought the group's music to radio stations and retail stores nationwide. And in 2006, Tonic Sol-Fa's first public television Christmas special was broadcast to over 1,800 stations across the United States, with an international launch to begin this year.

National appearances have included: Newsweek, NBC's Today Show, A Prairie Home Companion with Garrison Keillor, Steve & DC (nationally syndicated radio show) and many others. Corporate collaborations have included: Bose, Schwan's, General Mills, Tastefully Simple, Herberger's, Blue Bunny and Wenger Corporation.

Tonic Sol-Fa's own public television holiday special will air from 2006 to 2010 and their latest special "If I Can Dream" will air from 2009 to 2013 on public television stations across the U.S. Tonic Sol-Fa's original songs, arrangements, and albums have won numerous contemporary a cappella awards, have been featured on television and in movies, and have garnered positive national reviews.

National corporate event appearances have included: Jostens, Tastefully Simple, Thrivent Financial, LifeTouch, 3M, Wal-Mart, Stampin' Up and hundreds of others.

They were voted NACA's (National Association for Campus Activities) Contemporary Artist of the Year and nominated multiple times for NACA's Entertainer of the Year (most popular group in America on the college circuit). TSF was inducted into the Midwest Music Hall of Fame. Tonic Sol-fa was voted by Campus Activities Magazine as "One of the top five 'MUST SEE' groups in America."