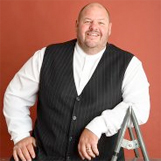 Tony Christiansen
Railway Accident Survivor, Author: Race You to the Top
Traveling From
California
X
Program Descriptions
Race You to the Top: The Tony Christiansen Story
Tony Christiansen has a story to tell. It's a story everybody will relate to, it's an unforgettable and inspiring story. From the first time you set eyes on him, you will be in awe because without any words, there is no denying that he is different. He doesn't have any legs. Yet Tony Christiansen has achieved more in his life that most of us are even willing to try and he will make you believe that nothing is beyond your abilities.
An avid sportsman, with a 2nd Degree Black Belt in Tae Kwan Do, Tony Christiansen is a qualified lifeguard with honors from the World Lifesaving Federation. He holds a number of gold medals in the shot put, discus, and javelin over a number of World Games. He is a keen motor car and 4-wheel motor bike racer, and he has achieved a number of other sporting feats and awards. Until recently Tony operated his own successful signwriting business.

The above is an admirable track record for anyone, but even more so for Tony, who lost both his legs in an accident when he was just nine years old.

Tony's story is remarkable, and his attitude about life is inspirational. He is an incredible example of achievement against the odds, and an inspiring speaker for corporate, association, and social events.


Books

Race You to the Top