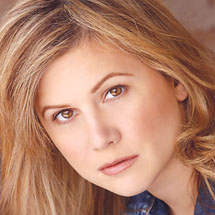 Tracey Gold
Eating Disorder Survivor, Television Actress
Traveling From
California
X
Program Descriptions
Surviving Eating Disorders and Gaining Self Esteem (An Appetite for Life)
Pulling from her own life experiences, Tracey speaks about her real life battle with eating disorders and successful recovery.
Why Book Tracey Gold?
Gold entered American households as Carol Seaver on the popular sitcom "Growing Pains". Behind the scenes, she was battling an eating disorder.
Now she is an advocate for health & wellness, particularly in young adults. She is now an author and public speaker
Clearly one of the most sought after keynote speakers in the country today on eating disorders, Tracey Gold, who spent seven years playing Carol Seaver on the sitcom "GROWING PAINS," battled with anorexia as a teenager and had her story pounced upon by tabloid magazines all over the world.

Twelve years later, Tracey is a mother, accomplished actress, and an eating disorder survivor. As the author of ROOM TO GROW and a public speaker, she exudes enthusiasm and inspiration speaking to a wide variety of universities, groups, and organizations about her life, gaining self-esteem, and overcoming anorexia nervosa. As a mother, she is raising three young boys. As an actress starring in numerous movies made-for-television, she is currently hosting TV Guide Channel's "TRAPPED IN TV GUIDE" and was a recent co-host on "THE VIEW." But, more important, as an eating disorder survivor she has been touched with a special insight into life and the human condition and is a constant reminder that with fortitude and determination, anything is possible.

Because Tracey's personal story touches so many people, Tracey is a welcomed guest on numerous talk shows including five appearances on "OPRAH." Oprah thinks so much of the importance of Tracey's message that she included Tracey in her "VIEWERS' FAVORITE OPRAH SHOW MOMENTS" and two of Tracey's appearances in her commemorative DVD set, "20TH ANNIVERSARY COLLECTION."