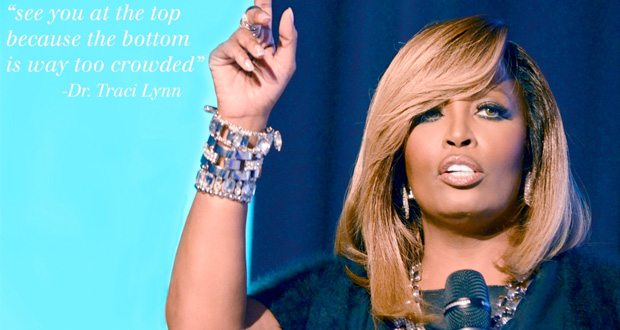 Dr. Traci Lynn
Founder & CEO of the Multi-Million Dollar "Traci Lynn Jewelry" Empire
X
Program Descriptions
Attitude is Everything
Once you develop a winning attitude everything and anything is possible to receive and achieve.
The Mind of a Millionaire
This life-changing presentation explores why some people suffer from the "wilderness mentality," and are not fulfilling or creating their ultimate destiny. With Traci as your guide, you will fully agree that you were created to have wealth, happiness, and success but it all starts with the way you think.

Powerful Leadership Skills for Women
This series will unlock the secrets of the most successful women leaders and shatter any success barriers that stand in your way. You will learn negotiation techniques that guarantee you'll hold your own even in the most intense situations.

Who's Pulling Your Strings!
In this session, you will learn how to recognize and use your inner strength, and how changing your attitude begins the process of creating what you want out of life. End self-sabotage, break through the mental barriers to peak performance, and change the face of your tomorrow by taking charge and control of creating your own future.
Why Book Traci Lynn?


Her mission is to motivate, inspire, and change people by getting them to step out of their comfort zone, moving them to greatness, and to transforming their lives
She is all about letting people know that they have the power to change their financial future and destiny if they set their minds to it and see the bigger picture.
Whether she's in her role as an in-demand motivational speaker, author, or as the owner and driving force behind the hugely successful direct-sales company Traci Lynn Fashion Jewelry, entrepreneur Traci Lynn has the same mission: "I call it 'passing the MIC,'" she says. "MIC: Motivate, Inspire, Change. My goal is to motivate people to step out of their comfort zone, inspire them to greatness, and to change their lives. It's about letting people know that they can do anything they set their mind to if they see the bigger picture. We have the power to change our own financial future and our destiny."

Lynn's unwavering commitment to offering her team the chance to own their own businesses, balance their lives, and achieve financial independence has earned her the nickname "The "Millionaire Motivator." It has also enabled her to grow the Fort Lauderdale based business from its modest beginnings (launched with $200) into a multi-million dollar enterprise that has nearly 25,000 independent sales consultants in 46 states. The company sells high-quality, stylish, affordable jewelry through a wholesale network and direct sales. Products are delivered through consultants to customers via home or office shows, personal shopping, and orders from color catalogs that feature former America's Next Top Model contestants Eva Marcille (also a star of the CBS soap The Young and The Restless), Fatima Siad, Toccara Jones, Cynthia Bailey from the hit show "The House Wives of Atlanta" and most recently Salli Richardson Whitfield. Traci Lynn Fashion Jewelry is crafted from Austrian crystals, pearls, cubic zirconia, and rhodium plating and it was a big hit among celebrities backstage at the Grammy Awards Gifting Suite.

"I believe in chasing the dream," Lynn says. "I don't chase the money. And because I chase the dream and not the money, money volunteers to chase me. I can love freely.

Lynn has been serious about business ever since she was a child. Her grandmother recruited young Traci at age four to help her sell clothes out of the back of her car in West Philadelphia. "My job was to remember the clients' names and where they lived," Lynn recalls. "I had a list and I had to map out where we were going. The part I didn't like was going shopping for the merchandise with her, but I was learning about colors and styles whether I liked it or not. So my grandmother trained me not only to have fashion sense, but about entrepreneurship as well." At 15, Lynn opened a hair salon in a family-owned apartment and got her beauty-college certificate, all while saving money for college. While in high school, she got her nursing license thinking she was going to become a doctor. "My mother had programmed me to be a physician," Lynn says. "If you asked me at age four what I wanted to be when I grew up, I'd tell you that I wanted to be an OB/GYN even though I had no idea what that meant."

Lynn attended the University of Michigan-Dearborn where she was the founding president of a local chapter of the national sorority Alpha Kappa Alpha, Inc. The chapter is still thriving today. While still in school, Lynn took a job as an investor information representative at mutual fund giant The Vanguard Group Inc., where she was quickly promoted to supervisor and then manager. But Lynn found herself itching to run her own business and left Vanguard to try her hand at a variety of enterprises: selling clothes out of her home, a nail technician agency, and a wedding planning company ("I had one client who ran me ragged," she says, "and I only made $2 an hour when all was said and done"). Nothing took. "I was struggling to find that one inspired idea," she says, "and it wound up being jewelry. I figured, "It's one-size-fits-all, how could you go wrong?"

Lynn launched Traci Lynn Fashion Jewelry in Philadelphia in 1989. She was 25. The company, and its founder, became an inspiring local success story. In 1994, Essence magazine dubbed Lynn one of the most innovative entrepreneurs under 30. She was also featured on Good Morning America for owning one of the top-grossing businesses among young entrepreneurs and received the Madame CJ Walker Award for entrepreneur excellence. Despite all that, Lynn folded the company a few years later. "The women enjoyed the motivation, but we couldn't sustain it financially," she says. "Sometimes life gives you the test first and then lesson later and that time it was too costly for me. But my real failure was letting other people's negativity destroy my confidence. That was the beginning of the end for me. I could have overcome the financial situation but because I did not have my mind closed tightly against all negative and discouraging influences I lost my passion for it, and had nothing left to give."

Yet it was while running the company that the seed was planted for her other line of work. Every month, Lynn had given pep talks to rally her sales force. One consultant told her that Lynn reminded her of the motivational speaker Les Brown. "I had no idea who that was, but my husband forced me to listen to one of his tapes," she says. "When I heard Les, it stopped me in my tracks. I said, 'This man stole every line I ever said.'" She decided to embark on a new career as a public speaker, eventually parlaying her gift for communication, not to mention her considerable humor and charm, into speaking to Fortune 500 companies around the world about attitude, leadership, and motivation. "That's still my message today," she says. "Attitude is everything, and I had to confront my own. I realized that I was blaming other people for my company folding, when I hadn't really followed my instincts. I had researched the direct-sales business model, and knew I should create a catalog, but I didn't and it cost me."

After many years of traveling the world as a motivational speaker, Lynn decided to re-launch with her first catalog in 2006. This time she was able to avoid the pitfalls that cost her greatly the first time around and trusted her own entrepreneurial intuition. Her motivational message became her company's mission, and as a result, she has transformed the lives of thousands of women and men who have taken advantage of the company's business training and become entrepreneurs on their own right.

Lynn says seeing the effect the company has had on its consultants is the most gratifying part of the business. She loves the consultants and they love her. "At one of the weekend sales rallies, a 10-year-old girl stood up and read a letter that she had written me about being a witness to the changes in her mother's life," Lynn says. "Her mother had lost her job, and working with us enabled her to continue to provide for her family. But more importantly, this little girl talked about seeing her mother smile again and get excited about something. She read this letter aloud and there was not a dry eye in the place."

Over the years, Lynn has become a published author (Wealth Without Sorrow and The Mind of A Millionaire) and earned two doctorate degrees in Divinity and Theology. She continued to rack up awards, earning the University of Pennsylvania's Carrier of Hope Award for her community service and The Spirit of Greatness Award for Outstanding Leadership in Business. She also has been featured in Essence Magazine and Black Enterprise.

Lynn's goal is to continue to empower her consultants and create a legacy business. "I'm looking for the day of 50,000 consultants," she says, "then 100,000 and more". "The sky's the limit."