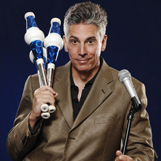 Tyler Linkin
Outrageously Funny and Creative Comedy Show
X
Program Descriptions
What is everybody laughing at?
Why is there such a large crowd at that booth?
Who comes up with this stuff?
Tyler Linkin has a funny way of making a living: he swallows ping pong balls, plays the piano with a monkey balanced on his head, feeds fruit to a member of the audience while juggling...then it's time to go on stage.

Known for his outrageously funny act that's underpinned by his quick wit and clever routines, Tyler always leaves audiences roaring with laughter. In fact, one critic encapsulated his perfect blend of comedy and charisma by dubbing him a definitive "Seinfeld with props."

Tyler is best identified for his inventive comedy juggling show, a specialized skill set he attributes to not wanting to get a "real job." His entry into the entertainment industry followed a degree in theater from UCLA, where he graduated cum laude.

Tyler has been featured in numerous production shows in Las Vegas, Lake Tahoe, Valley Forge, Biloxi, Reno, and Laughlin. In addition to his tremendous success in revue shows, Tyler's humor and antigravity antics have earned him kudos as an opening act, corporate entertainer and master of ceremonies.