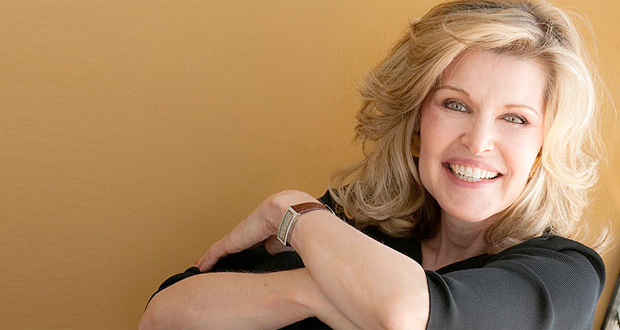 Vicki Hitzges
Former TV Newscaster & Host, Energetic Motivator
X
Program Descriptions
IMPACT & INSPIRE PEOPLE
With Tools You Probably Already Have Around the House
My "signature" keynote. Popular kickoff or closing talk.

Audiences always enjoy this presentation. It's thought-provoking, entertaining, and jam-packed with activities.

Your group will learn to thrive. They'll learn to:


Actively listen (the #1 sales and relationship skill)
Make a lasting, positive impression
Give and receive compliments (a top relationship skill)
Master positive thinking
Boost your entire group's morale by what they see and say
This talk will make your conference and your office the place everyone wants to be.

Benefits:


High morale
Increased productivity
Excellent customer service
Your company will enjoy excellent customer service (internally and externally). You'll profit from high morale and long-term business relationships.

ATTITUDE IS EVERYTHING
I can help you keep a positive workplace that attracts and retains top talent. As a result, you'll enjoy a steady stream of well treated, repeat customers. This talk will send your people back to work feeling like optimistic winners! (And they will be!)

I'll teach your people how to:


Stop worrying
Develop a positive attitude
Choose friends and associates wisely
Turn around "bad" days (for themselves and others)
When it comes to relationship success, personal happiness, and career triumphs, attitude is the little thing that makes the BIG difference.

Addresses: How to stop worrying. Positive thinking. Employee morale.

Benefits: Vibrant, happy workers. Freedom from fear. Boosted morale!

A positive workplace is a productive workplace. We'll keep your workplace humming with happy, productive people so you enjoy a vibrant business!

POWER PUNCH YOUR "TO DO" LIST
I'll get your people thinking, planning, and ready to go. Crushing goals leads to enhanced character, higher self-esteem, and increased opportunities.

Your team will discover strategies to tackle goals, open doors, and feel great. Watch your productivity skyrocket!

I'll teach your people:


The 3 reasons we avoid tasks (Probably not why you suspect)
A can't-miss solution for how to stop procrastinating
What to do if you stall because you're afraid to fail
How to get past "writer's block"
An EASY cure to get more creative instantly (Try it!)

Addresses: How to stop procrastinating. How to be creative. How to overcome the fear of failure.

Benefits: Higher productivity. Greater self-esteem. Better service. More sales.

Your organization will profit from eager employees excited to tackle goals. Productivity will soar! As a result, you'll enjoy higher profits!

Baby, Take Off Your Stress – You Can Leave Your Hat On
We're stressed!!! We have waaaay to much to do and not nearly enough time or resources to get it all done. This high-energy presentation will help your group chill. They'll discover the dangers of stress, why they feel it, and ways to stop stress instantly.


Terrific opening keynote
Fun breakout
Lots of interaction

Theme: How to bounce back when you feel knocked flat.

Purpose: To pep up groups that are burned out, tensed up, and stressed out. (Yours!)

Given to: Banktec, Dominos Pizza, Bell Helicopter, Int'l Credit Association, American Title Co., VHA, Medical City, Ford Motor Co., the IRS (and many other groups)

Audiences learn:


THREE causes of stress
FIVE major ways to zap stress
EIGHT funky ways to obliterate stress instantly

Benefits:


Interactive, fun presentation
Always a hit!
Volunteers demonstrate stress-releasing activities on stage.
Your group will laugh and learn as they HEAR, SEE and DO what it takes to relieve the Number One health problem facing Americans today…stress!
Why Book Vicki Hitzges?
Vicki Hitzges is a former award-winning Dallas TV news anchor and talk show host 


She's authored two popular books--"Attitude Is Everything" and "How to Stop Procrastinating"


She's spoken from New England to New Zealand to Australia to Great Britian to Thailand


She's versatile!  Her clients range from major airlines and large insurance companies to banks to government groups to law firms to hospital systems to direct sales groups to national sports teams.  


Your group will love her vivacious personality and positive message!
Vicki delights audiences. Her techniques come from her long career as a highly regarded motivational keynote speaker and broadcast journalist. She was the first woman and youngest person to hold the title of Dallas Bureau Chief at KTVT in Dallas. At the time, KTVT was the largest, independent TV station in the nation. Vicki anchored the news for the NBC affiliate (KRIS) in Corpus Christi, Texas where she won the prestigious National Headliner Award from the Press Club in Atlantic City. Then, she co-hosted the popular, Dallas Cowboy's weekly TV show, Special Edition, back in Dallas before becoming a successful publicist. In that role, her clients included BeautiControl Cosmetics and the world's top motivational speaker, Zig Ziglar. Impressed with her creativity, Ziglar invited Vicki to be one of the few speakers he would personally mentor.

As a motivational speaker, Vicki honed her platform skills using a conversational style to reach audiences with stories and humor – never Power Point.

She speaks across the world to associations, companies and universities who want a proven, strong message about teamwork in the workplace and excellent customer service. She's been interviewed by publications ranging from Entrepreneur magazine to the Chicago Tribune to the Dallas Morning News. She's also been a guest on radio and TV programs internationally including a segment on the British Broadcasting Corporation (BBC) where frustrated hosts called for motivational advice to encourage the team Manchester United. (After the call, the famed soccer team won!) Vicki holds a Certified Speaking Professional designation – an earned title given to less than 10 per cent of speakers internationally and only a few hundred women.

She's authored two books. The first book, Attitude is Everything – 10 Steps to Staying Positive, sold out the first day it was on the market. Now in multiple printings, it's sold worldwide. Her second book, Stuck on Stop – How to Quit Procrastinating, also boasts strong sales. She autographs copies for groups. Ask about a bulk discount.