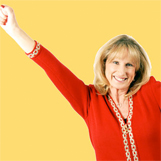 Vicki Sanderson
Life Would Be Easy If It Weren't for Other People!
X
Program Descriptions
If We're Going to Win This Race, We Need to Run in the Same Direction!
Imagine if you will... people working together in a positive environment, sharing ideas, taking risks, supporting one another, resolving conflicts face to face, and treating others with dignity and respect. Does this sound like the Twilight Zone? If so, this information-packed, dynamic presentation is for you! Positive attitudes and a commitment to cooperation are essential to the success of any team -- at work or at home. Excellent keynote presentation.

Life Would Be Easy If It Weren't for Other People!
Life is full of difficult people, situations and demands, but we never quite learn to live with them. This fast-paced, entertaining session explores the differences between men and women, touches on marriage and parenting, and then moves into the workplace describing the whiner, tattler, gossiper, complainer, and the employee who says, "That's not my job". Though humorous and motivational, this presentation is full of information and techniques that can be applied immediately to home and work to help people build better relationships, open lines of communication, and enjoy life a little bit more.

Self Esteem and the Six-Second Secret
Challenge:
Self esteem is much more than simply feeling good about oneself. People with high self esteem are accountable for their own actions, accept responsibility for their performance, behavior and attitudes, and treat others with dignity and respect. One of the most popular presentations within the Challenge Series, the profoundly simple "six-second secret" can dramatically impact a teacher's day-to-day communication patterns that characterize their classrooms. Learn the powerful three-step approach that can change any student's difficult behavior into a WINNING ATTITUDE!

Everybody Thinks They Can Do My Job, But Nobody Wants It!
Successful managers must address the need for better customer service, the demand for higher quality and the cry for consistent leadership. This workshop is designed to empower business managers in the vital areas of building a successful team, conflict resolution, interpersonal communication skills, employee morale, a winning attitude, burnout, self esteem in the workplace and effective performance appraisals.

The Art of Positive Parent Teacher Conferences
Challenge:
Many of us as teachers never took college courses on communicating with parents. And as many teachers know, your first difficult parent conference can be enough to scare you into never wanting to do one again. In this insightful presentation, Vicki shares techniques to empower teachers to conduct positive and beneficial conferences with any parent they may come in contact with. Learn how to take control of every conference and make it become a WINNING situation!

The Teacher Guarantee
Challenge: Creating a Master Teacher
In this fast-paced yet thought provoking presentation, Vicki challenges teachers to take a hard look at their teaching style and attitude in the classroom. As co-author of the powerful "Teacher Guarantee", Vicki leads teachers through the ten things every master teacher should be doing to be able to provide our students with the best classroom leaders in the nation.

Lead Your Way Into the Future!
Start the year off right with this DYNAMIC and POWERFUL student oriented presentation. Vicki motivates students to prepare for the school year ahead of them by having them explore their own unique personality, talents and skills that will lead them into the future. Learn three valuable skills in college that will take you to the top: Communication, Leadership and Positive Attitudes!
Why Book Vicki Sanderson?
Vicki is a professional communicator! She is a humorist, educator, professional speaker, emcee, author, producer, speech coach, and more.
Vicki Sanderson's enthusiasm, emphasis on content, and entertaining style have made her a successful speaker and motivator. Vicki's presentations have inspired audiences to work better together, take risks, build stronger relationships and take a closer look at themselves.

Vicki Sanderson obtained her B.A. in Speech Communications and Radio/TV at Stephen F. Austin State University.

She is:
A National Speaker
A Seminar Leader
A Facilitator
An Entertainer and Humorist
Co-author of the book Life Would Be Easier If It Weren't For Other People
Co-Writer and Producer of the inspirational song "Together We Can Build A Better World"
An Educator
A Speech Coach
A member of the National Speakers Association

Vicki Sanderson specializes in keynote addresses, customized workshops and seminars, in-service training and after dinner speaking. She has been invited to speak in front of many corporations, associations, educational institutions, health care providers, and community organizations nationwide on a variety of topics... and they all agree, Vicki can make a world of difference!

Healthcare:

Vicki conducts in-service training seminars to hospitals, healthcare organizations and national and state associations. She conducts workshops for maintenance, food service, nursing and administrators. Vicki's knowledge of inter-office staff relations can benefit physician's office personnel as well. She has conducted many all day hospital-sponsored events for the whole community.

Education:

Vicki was a classroom speech and debate teacher for 12 years. She received the Texas Congress of Parents and Teachers Honorary Life Membership Award in recognition of her outstanding and distinguished service to children. She conducts highly motivated and content filled presentations and in-service programs to administrators, teachers and support staff. She also services the community by offering programs to parents and students. She has spoken to many districts and state administrators conferences including the National Secondary School Principals Association, The Texas Elementary Principals and Supervisors Association and The Texas Association of Secondary School Principals.

Business and Industry:

Vicki delivers keynote presentations, management retreats, staff relations seminars and all day training workshops. Some of her topics include customer service, change, leadership and team building. Vicki presents workshops for employees, support personnel, managers, CEO's and boards of directors.

Vicki has spoken to thousands of business employees, staff and managers and they all come away excited to be part of their company and ready to take steps to improve employee relations and the quality of their work.