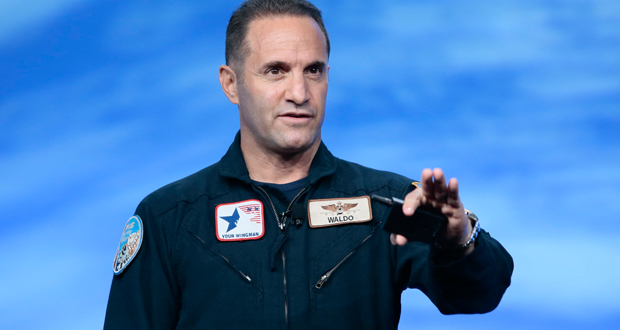 Waldo Waldman
Decorated Fighter Pilot. New York Times Bestselling Author. Hall of Fame Speaker.
X
Program Descriptions
Leadership Keynote Speaker
The key to building a high powered organization that encourages innovative thinking, loyalty to the mission, and a relentless commitment to excellence lies with its leadership.

In this high energy workshop, I highlight the difference between managing people, and leading them to be responsible, empowered, and confident wingmen.

An organization that leads to win has four distinct characteristics:
Shared Vision
Each and every wingman in the organization knows exactly what they are fighting for. They are committed to the mission, and understand exactly how their unique role in the organization is essential to its success.

Values Based Culture
Integrity, accountability, mutual respect, and teamwork serve as the foundation for all relationships internally with co-workers, and externally with partners and clients. Effective Communication Leaders listen aggressively and communicate their vision with passion. They promote open communication and connect with the heart and soul of their wingmen.

Train to Win Mindset
Successful leaders command flawless preparation, not flawless execution! They encourage their wingmen to expand their capabilities, and consistently reward high performers who take calculated risks and 'push the envelope' in order to grow.

What results is a more productive and efficient organization with superior morale that can rapidly overcome challenges in a competitive marketplace.

Be prepared!! As a Leadership Speaker, my workshop is high-energy and engaging, and details a customized leadership flight plan that your organization can employ tomorrow!

This program can be delivered via a one-hour leadership keynote or a half-day leadership workshop.

NEVER FLY SOLO!®
Lead with Courage, Build Trusting Partnerships, and Reach New Heights in Business
Flying solo? You might think so. But take a good look around. You have support staff. You have managers. You have suppliers, vendors, and distributors. And you have colleagues, family members and significant others. By committing yourself to excellence and placing your trust in those around you, you can overcome obstacles, adapt to change, and break performance barriers during adverse times. By placing your trust in your wingmen and by being a wingman to your customers and team, there is no mission you can't complete!

Lt. Col. Rob "Waldo" Waldman, The Wingman, overcame a lifelong battle with claustrophobia and a fear of heights to become a combat decorated Air Force fighter pilot and highly successful businessman, entrepreneur, and New York Times bestselling author. His motto is Winners Never Fly Solo! Through his captivating personal stories and high energy videos, learn how you, like a fighter pilot, can succeed in highly competitive and demanding environments.

Discover how to prepare diligently for every mission; employ loyal wingmen to promote integrity and mutual support; and lead your team with courage, compassion and conviction. Be inspired to take to the skies knowing that you have wingmen to help you face challenges and change with confidence while maximizing your potential in all aspects of your life.

"Wingman Leadership"
How to Build a Culture of Courage in Business and Life

How can you instill a climate of ownership in your organization so that every person feels like they are accountable and responsible for its success?

What tools can you employ to motivate the members of your organization to focus on the mission rather than themselves?

How can you help create an organization where change and innovation are not met with fear, but embraced with courage and respected as a tool to beat the competition?

The key to building a high performing organization that encourages innovative thinking, loyalty to the mission, effective communication, and a relentless commitment to excellence lies with its leadership. In this high energy, multimedia workshop, Waldo highlights the difference between managing people and leading them to be responsible, empowered and confident wingmen! What results is a more productive and efficient organization with superior morale that can rapidly overcome challenges in a competitive marketplace.

Waldo discusses proven leadership principals based on his experience as a graduate of the Air Force Academy, seasoned Air Force officer and combat decorated fighter pilot, and experienced businessman. Relentless self-discipline, passion for the mission, dedicated teamwork, and a commitment to excellence are a few key elements of this engaging and highly interactive seminar.
Why Book Waldo Waldman?


Waldo combines real world business experience and a background as a fighter pilot into an exciting program that empowers attendees to break performance barriers in highly competitive environments.
He uses dramatic jet fighter footage, high energy music, and audience interaction, and shares tools and techniques to promote accountability, preparation, teamwork, and trust.
Known as "The Wingman," Lt Col (ret.) Waldo Waldman is the author of National Bestseller Never Fly Solo. He helps organizations build collaborative cultures of trust, courage and commitment in order to adapt to change, break performance barriers, and overcome adversity.

In addition to his time in the military, Waldo has real world corporate sales experience and is an expert on change management and resilience – having overcome a fear of heights and claustrophobia to achieve his dream of becoming a ghter pilot. His compelling stories and tactics on overcoming adversity, performing under pressure and servant-based leadership are extremely relevant to organizations who are going through disruptive change and seeking to build a "One Team, One Mission" culture of excellence and trust.

Waldo is a graduate of the U.S. Air Force Academy and also holds an MBA with a focus on Organizational Behavior. He is an inductee into the Professional Speakers Hall of Fame, and is the founder of The Wingman Foundation whose mission is to build funds and awareness for veterans and their families in need. He has been featured on CNN, Fox News, Inc. Magazine, and The Harvard Business Review, and his clients include Verizon, American Express, GE, The Denver Broncos, ExxonMobil, New York Life, Siemens, Merck, and dozens of national associations.
Books

Never Fly Solo