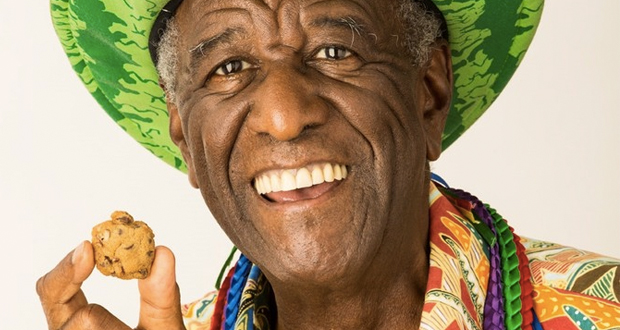 Wally Amos
Famous Entrepreneur and Literacy Activist
X
Program Descriptions
Watermelon Credo
Wally will show how to make every day of your life a fun day. He will talk about why love is the answer and he will prove that the only way you can live life is one day at a time and that it truly is beneficial to absolutely Never, Never ever give up. After hearing Wally you will have no choice but to BE POSITIVE REGARDLESS.

The Cookie Never Crumbles
From Wally's childhood, up through his days in the entertainment business, to the creation and loss of "Famous Amos" cookies, and to his current way of life, Wally Amos struggled, adapted, and finally triumphed. His inspirational advice will make you laugh, make you dream and make you think. This is a message built on faith!

The Power in You
This program is designed to demonstrate that life is an inside job. Using his personal experiences, Wally explores the power in words, faith, enthusiasm, giving, attitude, love and other positive aspects of life to help the audience connect with their inner power.

Relationships Are Partnerships
Because of his years of varied experiences and careers, plus his warm, personal and sincere delivery, he is qualified to show the advantages of teamwork. Wally shares his successes and his failures, which can act as a mirror to benefit your organization. When you strengthen your relationships and partnerships, you strengthen your organization.

A Recipe for a Successful Life
An enlightening experience where the audience will explore their own belief system and evaluate their own values. A super charged speech for anyone or any company ready to turn their lives, career, or corporation around.

Seeds of Wisdom, Slices of Life
Emphasis is placed on getting in touch with the truth of who we are now versus what we've been in the past. Participants will realize that each of us creates our own belief system and will learn how to transform the negative beliefs they may have into positive ones while simultaneously unlocking their inner power.
Why Book Wally Amos?
You may not know it, but you already are very familiar with his work - Wally is the inventor of Famous Amos cookies!
Wally is an entrepreneur turned professional speaker. He is loved for his warm personality, encouraging attitude, and moving speeches on subjects of ranging from commitment and integrity to faith and love
Wally Amos is an icon and his name is a household word – and no wonder - he has been in the public eye for over 30 years! As founder of Famous Amos Cookies in 1975 and father of the gourmet chocolate chip cookie industry, his name is a household word.

As a professional speaker, Wally is highly valued for his charismatic and warm style and inspiring "do it" positive attitude. Wally is living proof that the success principals he lives by work. People identify with him. He is human enough to share his setbacks and shattered dreams, while also showing that tenacity and a joyous spirit allows you to soar and succeed.

His customized talks and master of ceremonies skills thrill audiences at corporations, industry associations and universities. He addresses the issues of commitment, integrity, attitude, imagination, enthusiasm, self-esteem, giving, faith and love. Presented in his unique and upbeat style, Wally shows organizations how to turn lemons into lemonade… because life is an "inside" job.

Since 1979 Wally has been a literacy advocate and serves on the board of many organizations. Wally was National Spokesman for Literacy Volunteers of America from 1979 until 2002 when they merged with Laubach Literacy Council to create ProLiteracy Worldwide. He now refers to himself as a Literacy Advocate. He serves as a Board Member of the National Center for Family Literacy and Communities in Schools. In addition, he serves as Chairman of the Chip & Cookie Read Aloud Foundation.

His latest venture, Chip & Cookie, which features five flavors of cookies and two chocolate chip cookie plush character dolls, are the newest additions to Wally's long line of amazing entrepreneurial success stories. His honors and awards include the President's Award for Entrepreneurial Excellence, the Horatio Alger Award and Outstanding Business Leader Award. Two of his trademarks, his famous Panama hat and shirt have been on display at the Smithsonian Institute.
Books