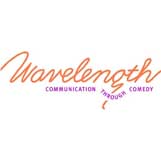 Wavelength
Communication Through Comedy
X
Program Descriptions
UnCommon Core Comedy
The latest nationwide educational platform -- Common Core State Standards (CCSS) -- also provides fodder for Wavelength's newest comedy platform. Fast-paced parodies, jump-up-and-dance music, and ample audience participation highlight a series of sketches that reflects the joys and frustrations of engaging students in "owning their own learning."

The 7 Habits of Highly Ineffective Educators
Wavelength's all-time hit show gets a 21st century makeover with new characters, but still celebrates and satirzes educational issues, culture and trends. Audience interaction enhances the humor around anger management, change, diversity collaboration and quality teaching.

Those Who Laugh... Last!
Our most improvised performance keynote. Using improvisation as an anchor, along with scripted scenes, Wavelength creates a program that addresses the themes and concerns relevant to your school, disctrict or educational group.

The "Sense" of Humor
Sometimes educators feel they need to be "given permission" to use their natural senses of humor in the classroom. Jim Winter, the founder of Wavelength and "Certified Laughter Leader," created this workshop to empower educators to experience and practice the techniques for using humor, laughter and spontaneity in their classrooms. Explore current brain and educational research on purposefully using humor in professional learning environments.

Faculty Lounge
This one-woman presentation created by founding members Debbie Lauer and Rochelle Richlieu reminds you "why you became a teacher" as 11 characters, played by one actress, interact and pontificate during "Teacher of the Year" voting. The faculty lounge is buzzing with the hopes, dreams and frustrations in this educational tour de force of characters including teachers, administrators, parents, students and local politicians. "Belly laughs to tears."

Musical Staff: The Musical About Teaching
Your favorite Broadway show songs parodied and adapted to today's most pressing educational issues. Highlights include, "Mentors," "Sit Down You're Rockin' the Board," and "You Should Have Crammed All Night." Written and performed by our 3-person ensemble featuring some of the most talented musical theatre actors in Chicago.
Jim Winter
Jim Winter founded Wavelength in 1980 after attending workshops at the Players Workshop of Second City. As a former high school English teacher, he saw the connection between the art of improvisation and effective and engaging teaching. To that end he created Wavelength to deliver professional staff development training. Jim has performed and presented across the United States, in Canada, the Netherlands, SIngapore, the Czech Republic, and Spain. His heroes include John Cleese, Phil Jackson and the Dalai Lama.

Rochelle Richelieu, M.S.W.
Rochelle Richelieu is the Artistic Director of Wavelength, and has been with Wavelength since its inception in 1980. She began her career in the Touring Company of Second City in Chicago under the direction of Del Close. She holds a Master's degree in Clinical Social Work from Loyola University. Rochelle spent five years in Los Angeles where she performed in sit-coms, 28 national commercials, and she played Clint Eastwood's waitress in Gran Torino.

Debbie Lauer
Debbie Lauer met Jim Winter in 1979 at the Players Workshop of Second City, and along with Rochelle Richelieu created Wavelength. Debbie took training with such comedy greats as Jonathan Winters , George Carlin and Marty Feldman. Debbie created the one-woman show "Faculty Lounge," for which she received the Videographer Award of Excellence for the taping of her live performance. She has appeared in more than 1,000 of Wavelength's shows nationwide and in The Netherlands. She is particulary noted for her physical comedy which can be viewed on You Tube in "Funny Teacher Video."

Michael Edgar Myers
Michael Edgar Myers joined Wavelength in 1988. He has appeared in half of Wavelength's 2,000 presentations to educational organizations throughout the U.S. and in The Netherlands. He has created such memorable characters as Colonel Wormwood, the militaristic superintendent, Bernie in Teacher Anger Jeopardy, and Rev. Jesse, the pontificating politician. When not performing with Wavelength, Michael is a playwright and stage director in Chicago, appears in commercials, television, and training films; serves as a freelance artist-in-residence in middle and high schools; and is an ensemble actor with "Unshackled," the nation's longest running radio drama series.

Julie Ganey
Julie Ganey has performed and presented with Wavelength since 1989. Her bullying prevention program, Stand Up on the Schoolyard, has been presented to students and educators within the Chicago Public School system and across the country. Julie is an arts educator for students of all ages through the Goodman Theatre, Lifeline Theatre, and Raven Theatre, and is also a program creator and instructor for American Girl Place. She is also a company member of 2nd Story, where she writes and performs her original solo shows ~The Half-Life of Magic and Love Thy Neighbor. . .till it hurts.. She has taught theatre and improvisation through-out Chicago Public Schools, and at Northwestern University's Center for Talent Development.

Brad Harbaugh
Brad is a regular on Chicago stages and WGN Television named him "one of Chicago's best physical comedians," He was nominated for a Joseph Jefferson citation for the role of Austin in "True West." Brad worked for the Chicago Public Schools, blogged about Education in his spare time and frequently writes and improvises scenes for Wavelength keynotes and workshops.

Kara Kesselring
Kara Kesselring has been in the Wavelength family since she was a young lass (1997!) Honored to be a cast member of Wavelength, Kara's been bringing music to many educators over the years. You can also catch her with four of the cast members from "Jersey Boys" in their musical "Under The Streetlamp," as she accompanies them on piano as the show tours the country.

Anne Sheridan Smith
Anne Smith joined Wavelength in 1998. She has enjoyed performing for teachers and educators across the nation and overseas. When Anne isn't entertaining teachers on the road, she's appearing in plays, musicals, concerts and cabarets in Chicago. She has performed in Chicago's Court Theatre, Strawdog Theatre, Drury Lane Oakbrook, Signal Ensemble, City Lit, and Porchlight Theatre. Anne is a member of Foiled Again, a singing trio for which she won the After Dark award for Best Cabaret Performer.

Jason Sperling
Jason Sperling has been with Wavelength since 2001. He is also an original company member of Barrel of Monkeys, a children's writing and theater program . Jason created and teaches the drama program at St. Juliana. He also teaches acting at The Chicago High School for the Arts; and is a teaching artist with Raven Theatre Jason has worked as a performer at theatres in Chicago including Marriott, Drury Lane, Apple Tree, Northlight, Theatre at the Center, Noble Fool, and Ravinia.

Tina Gluschenko-Maloney
Tina Maloney has worked with Wavelength since the mid-1990's performing for both corporate and teacher audiences across the country. Tina graduated from DePaul's Theatre School and has performed extensively in Chicago theaters including Steppenwolf, The Goodman, Chicago Shakespeare, Northlight, and Second City. She has taught acting for children at the Beverly Arts Center on Chicago's far south side, and sings with Grace Notes, a band that focuses mainly on playing traditional Irish music.

Stephanie Vlcek, Psy.D.
Stephanie Vlcek has provided musical accompaniment for Wavelength shows for the past four years. She is a full-time faculty member for The Second City Training Center and has over 15 years experience in the theater arts and improv. Prior to becoming a full-time teacher and Music Director, Stephanie spent five years as a Psychotherapist, including three years as School Psychologist working with the on-campus Stepping Stone Day Treatment education program in northern Illinois.

Christopher DeRose
Chris DeRose is thrilled to be a part of the Wavelength family. After receiving a Bachelors in Theatre Arts from McDaniel College in Westminster, MD, Chris moved to Chicago to study improv and sketch comedy at iO, Second City, and Comedy Sportz. Chris moved into corporate acting and MC-ing, becoming a personality at annual meetings, corporate retreats and conventions. Since 2011, Chris has been a producer and on-air contributor with the hottest morning television show in Chicago, WCIU's You and Me This Morning. Every week day, you can catch Chris doing a variety of reports ranging from history pieces on the city, to funny man on the street quizzes, to celebrity interviews.

Minita Gandhi
Minita Gandhi is thrilled to be working with Wavelength since 2010. Born in Mumbai, India, raised near San Francisco, Minita moved to Chicago and has been seen on "The Chicago Code" (FOX), and as the title role in the upcoming Hindu mythological film, "Parvati's Golden Skin." She has performed with Tony award-winning director Mary Zimmerman's "The Arabian Nights," and has played at Chicago's Lookingglass Theater, The Gift, First FolioTheater, Silk Road Rising. Minita may also be seen occasionally as a host during pledge drives on Chicago's PBS affiliate, and on YouTube in satirical short films produced by The Onion.

Patrick Rowland
Patrick Rowland is a writer/performer out of Chicago. He has studied at iO Chicago where he coaches and performs weekly with pantsdotcom, 3Peat, Deltones, and Armando Diaz. He is also a graduate of The Second City and has performed with their Outreach and Diversity program, House Ensembles, and has understudied their resident stage. He is also a contributing writer for The Second City Network. His talk show, "Barack All Night," has received 3 stars from the Chicago Tribune and was a Timeout Chicago's Critics Pick. Patrick has appeared in the Chicago Improv Festival, Chicago Sketchfest, Del Close Marathon, and the Dirty South Improv festival and solo work was featured in TBS Just For Laughs Festival.