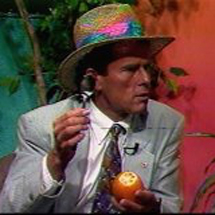 Wayne Pickering
The Ambassador for Health, 'The Mango Man'
X
Program Descriptions
The Grass Is Greener And This IS The Other Side
Learn how to Prosper in a Slowing Economy with 3 easy Marketing Strategies and 3 ways to increase your business.
How to get customers and keep them for the long haul. Tips on how to turn customers who balk into customers who buy!
Learn the 4 kinds of Sales People knowing how to outsell your competition. Great Sales People Are The Economic Wheel Of Our Society.
Discover the #1 Sizzle Selling Success System. Motivational and Inspiring. Never give people their money's worth…give them a bargain!
Living in America - what a privilege and pleasure! We are the envy of billions of people on the planet. And the Spirit of America is UP! And whatever happened to the 'Good Ole Days'?

How to Get Well then Stay Well for Life (Seminar)
In this 8 Hour Seminar you will enjoy:
Sleeping soundly and awaking more rested
Coping with stress, fatigue and depression with ease and style
Having TONS of Energy
Greatly improved mental abilities
Decreased wrinkles, sags and loose skin
Improved Vision, Speeds injury recovery
Heightened creativity and learning ability
Feeling Good while Staying Younger Longer
Being 100% totally free of all aches, pains, stress & disease

Is Your Diet A Riot?" (Seminar)
In this most popular seminar your audience can expect to:
Stop wasting time & money with all the hype and enjoy healthy options even your Doctor WILL approve.
Master what to eat during your hectic schedule to increase your performance and decrease your downtime both of which affect the bottom line.
Learn the 3 Foods to Avoid and the healthiest FAST FOOD to keep stress to a minimum, lose unwanted weight permanently and keep the fun in living.
Discover how to maximize your energy levels - learning the difference between energy-gaining and energy-draining foods.
Eliminate, once and for all, the mass confusion about nutrition and savoring hassle-free eating as it should be!
Enjoy Amazingly powerful SECRETS on how to Eat More…Weigh less…Sleep better…Be Energized…Improve your Sex Life and Feel Terrific in 30 days, GUARANTEED!
Eat Healthy without hating it and Get your Best Body EVER… with no more guess work with your nutrition.
Get Fitter Faster and Stay Slimmer in the Winter while stopping everyday Aches & Pains with Simplified Meal Planning Suggestions for Breakfast, Lunch and Dinner!
Why Book Wayne Pickering?
Wayne has beat the odds and substantially improved his health in the process - and now he wants to share his improved lifestyle
Dr. Wayne "The Mango Man" Pickering, N.D., Sc.M.; prognosis was death at age 30. Now, at 70 years young, is an award winning Triathlete, double nominee for the Healthy American Fitness Leader Award, Author of 25 Books, over 100 CD's, 70+ DVD's, over 400 Articles on Fitness, Stress & Nutrition and 10 Health Systems all distributed in 37 countries!

He's a Naturopathic Physician; Nutritional Performance Coach, Lifestyle Management Consultant and a Disease Prevention Specialist and a guest on several TV & Radio Shows who teaches people how to get Older and Better and NOT Old and Bitter while Passionate about living and teaching a totally Disease-Free Lifestyle with a focus on Nutrition and a basic Philosophy, "If you want to be Tough you have to Eat Good Stuff"!