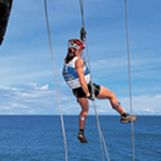 World Class Teams
Adventures in Teambuilding
Traveling From
California
X
Program Descriptions
Extreme Teams
Extreme Performance: Why Winners Win
High Performance Leadership
World Class Team's mission is to provide cutting edge leadership, "followership" and teamwork training based on The 8 Essential Elements of Human Synergy, which were discovered and forged on the mountains, rivers, jungles, and glaciers of the most remote and inhospitable regions of the world through the sport of Adventure Racing. Robyn Benincasa, World Champion Eco-Challenge competitor, and her World Class Team of facilitators will take your corporate team on an adventure they'll never forget!

Robyn Benincasa was born in Long Island, NY, but spent most of her youth in Tempe, AZ, where she competed at the state and national level in gymnastics, diving, and cross country. After graduating from Arizona State University with a B.S. in Marketing, Benincasa accepted a pharmaceutical sales job in the San Diego Territory and earned honors as "Rookie of the Year" in 1990.

Benincasa was shortly thereafter caught by the triathlon bug , and ultimately went on to complete six Ironman races, with two podium finishes in her age group in Kona, Hawaii. By 1995, however, she was really really tired of triathlon AND wearing panty hose to work, so she embarked on a mission to live her dreams of becoming an adventure racer and firefighter.

In the past 10 years, she has completed over thirteen "expedition length" adventure races (7-10 days, non stop), and has earned World Champion honors in both the Eco-Challenge (Borneo, 2000) and the Raid Gauloises (1998). Ever in search of a way to "spread the luuuuuuv", Benincasa launched World Class Teams in 2000, with the hopes of bringing her unique and inspiring perspective on teamwork to the corporate world.

In the past 5 years, her "8 Essential Elements of Human Synergy" keynotes, training seminars, and outdoor AdventureTeambuilding challenges have been embraced by Starbucks, Tony Robbins, Boeing, Lockheed Martin, Aramark, Honda/Acura, Timberland, Earthlink, and Fast Company Magazine.

She also accepts full blame for inspiring some of her corporate clients to do insane things like climb mount kilimanjaro, run their first triathlon, or (gasp!) start their own adventure racing teams. "It's a tough job", Benincasa says, "But someone's gotta do it".