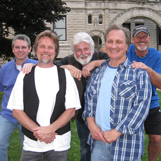 Wright Brothers Band
Indiana Band
Their show's as unpredictable as Indiana weather. One moment it's the thunder and lightning of one of their trademark, dramatic story songs; the next, it's the summer breeze of a sweet and gentle love song. Whatever the genre the Wright Brothers are visiting at the moment, it's bound to be marked by this versatile group's signature sounds: rich, intertwining harmonies backed by virtuoso instrumentals.

The Wright Brothers' thirty-eight years of making music together is testimony to their ability to bring a smile to every member of their audience. And often it's as much a smile of surprise as of pleasure; the boys move seamlessly from a 1940's pop standard to a reworking of a Beatles classic. What is most interesting is that this incredibly versatile group can change gears like no other group as they play a 40's big band song then switch to a 50's - 90's rock 'n roll for an entire evening of dancing, then turn around and perform a George Jones country classic or a bluegrass number from "Oh Brother, Where Art Thou"? And what's best is the different styles sound the way they are supposed to - genuine. The glue that holds it all together is that unmistakable Wright Brothers sound; those heavenly harmonies that make you hold your breath, and the instruments that sizzle or soothe.

The Wright Brothers put on a show. But you never know where the show's coming from: It might be Tom Wright, a true master of ceremonies, entertaining the crowd with his sly humor and impeccable timing, then crooning a solo with that velvety baritone.

It might be Tim Wright-his voice as nimble as his fingers; he'll move from singing in a Garth Brooks twang to a James Taylor song that when you close your eyes, you'd swear you were at a J.T. concert, all the while picking a seemingly endless succession of stringed instruments: banjo, acoustic guitar, electric guitar, dobro, and pedal steel. John McDowell's bass guitar is the perfect counterpoint to his clear, soaring tenor, and Frank Bradford's soulful, expressive voice complements his keyboard and lead guitar wizardry. Bryan Chrisman contributes a broad range of percussion skills that drive the Wright Brothers band. Keith Claghorn brings his keyboard and vocal abilities to the band, along with his in home studio and engineering abilities that have been a strong contribution to the band. The icing on the cake is provided by Tim's two daughters, Emily and Lauren, who have been singing with the group full time since 2001. Put them all together and you have one of the tightest, most talented bands you've ever heard.

The litany of the band's accomplishments is testimony to their ability and staying power. Celebrating 38 years as "Indiana's Band" in 2010, the group has performed throughout the United States and Canada.

The Wright Brothers' resume is impressive: They did the soundtrack for and appeared in the MGM movie Overboard, starring Goldie Hawn and Kurt Russell. Nine singles have hit Billboard's charts. They've recorded albums for Mercury/Polygram ("Easy Street") and Warner Bros. ("Made in the USA"). Three songs from "The American Way", a recording for the American Entertainment Network and KRB Music have been included on a patriotic compilation C.D. with Lee Greenwood which has sold over 300,000 copies to date. In 2008, the group produced and hosted a radio show called, The Hoosier Jubilee" from the French Lick Resort Hotel, Tom and Tim's home town. Their latest CD is a compilation of live music from the Sunday morning program that was broadcast throughout Indiana. The band has performed at the Grand Ole Opry and on "Hee Haw," "The Today Show," and "Nashville Now." Over the years, they've appeared with a breathtaking number of major stars in every venue imaginable: fairs, festivals, conventions, concert halls, and the campuses of countless colleges and universities.

It's impossible to put a defining label on the Wright Brothers musically, but one label that fits is that of a family band, both literally and figuratively. Their show is one that's been deemed appropriate for everyone from the Vice President of the United States to the kid by the gazebo in the town square. Recognizing the group's role as ambassadors for the state of Indiana, the governor conferred on the Wright Brothers the state's highest honor, naming them Sagamores of the Wabash.

It's a total package: tight harmonies, flawless instrumentation, and humor in a well-paced, polished, and wide-ranging show that's sure to please audiences of any age or musical taste. You'll soon see why Wright Brothers audiences end every show on the same note: "More!"